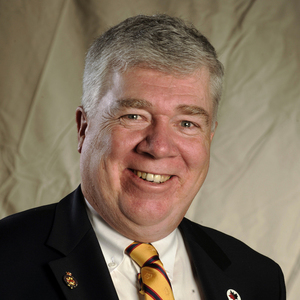 Dale Jackson - Past Joint Rules Committee Member to rewrite of the New Rules of Golf 2019
Special guest
A consuming passion for all things golf has led Dale down some interesting paths…
For reasons still not clear to the otherwise sane, in the early 2000s he developed a deep appreciation of the rules of golf, leading to many hours of study and work as a referee. He has worked as a referee at 2016 Olympics, The Open, the US Open, the Masters, the Canadian Open and several other PGA Tour events, as well as working innumerable amateur championships worldwide. From 2013 - 2018 he represented Canada on the Joint Rules Committee, the group responsible for the rewrite of the Rules of Golf, which will become effective in 2019.
A long time volunteer in organized golf, Dale is currently a member of Golf Canada's Board of Directors and will serve as the second Vice President in 2019. In 2014 he was named the Sports BC Official of the Year. Dale is a 25 year member of Royal Colwood Golf Club in Victoria, British Columbia. A love for all things Royal Colwood, and having writing a book as an item on his bucket list, led hime to write the 100 year history for the Club. Published in 2013, it has been met with positive and enthusiastic reviews. Dale has also served in the past as Club Captain and Director at Royal Colwood.
Dale's professional career away from golf was spent as a managing partner and owner of a management-consulting firm, which specialized in business development as well as business process and organizational engineering. He received his Bachelor of Arts and Master of Arts degrees from the University of British Columbia. Dale currently lives in Victoria, B.C. and Palm Desert, CA with his wife Alison and two (very) friendly Golden Retrievers, Summer and Dawson, and is a passionate pickleball player.
Dale Jackson - Past Joint Rules Committee Member to rewrite of the New Rules of Golf 2019 has been a guest on 2 episodes.
April 1st, 2019 | Season 5 | 24 mins 56 secs

#growgolf, dogu taskiran, entrepreneurship, future of golf, gia bocra liwski, golf canada, golf channel, golf experiences for her, golf genius, golfboo, hype sports innovation, innovation, jofit, kenexit, latina golfers, laurence applebaum, lean startup, matthew pringle, modgolf, modgolfpodcast, new rules of golf, nextlinks, pga, stambol studios, startup, tagmarshal, tour edge golf, usga, we are golf

Host Colin Weston recaps the best from each of our twelve Season 5 guests, along with a preview of Season 6 which will premiere on April 9th.

January 15th, 2019 | Season 5 | 48 mins 35 secs

#growgolf, dale jackson, entrepreneurship, future of golf, golf canada, golf channel, innovation, modgolf, modgolfpodcast, new rules of golf, pga, r&a, usga, we are golf

On January 1st 2019 The New Rules of Golf were released by the USGA/R&A Joint Rules Committee. Lots of media coverage has been dedicated to what the changes are, but we wanted to reveal the five year process that focused on the why and how. On this episode Past Joint Rules Committee member Dale Jackson pulls back the curtain to shed some light on the vision, strategy and decision-making process that was half a decade in the making.