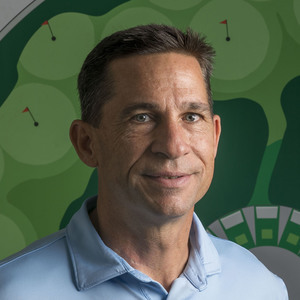 Dave Shultz - Founder & CEO of NextLinks / REALiTEE Golf
Special guest
Dave Shultz, founder and visionary of NextLinks, left his 20-year corporate career with General Electric to pursue a new more purposeful life journey.
Dave's vision is this: "We are going to bring golf to life in ways for all to enjoy it on their own terms...in a social, beautiful, unintimidating, and interactive way."
An accomplished product development engineer and global operations leader, Dave changed his trajectory with a sudden awareness that he had the hunger and capability to create a new global economy from his idea.
Dave Shultz - Founder & CEO of NextLinks / REALiTEE Golf has been a guest on 2 episodes.
April 1st, 2019 | Season 5 | 24 mins 56 secs

#growgolf, dogu taskiran, entrepreneurship, future of golf, gia bocra liwski, golf canada, golf channel, golf experiences for her, golf genius, golfboo, hype sports innovation, innovation, jofit, kenexit, latina golfers, laurence applebaum, lean startup, matthew pringle, modgolf, modgolfpodcast, new rules of golf, nextlinks, pga, stambol studios, startup, tagmarshal, tour edge golf, usga, we are golf

Host Colin Weston recaps the best from each of our twelve Season 5 guests, along with a preview of Season 6 which will premiere on April 9th.

September 26th, 2017 | Season 2 | 28 mins 37 secs

#growgolf, dave shultz, future of golf, golf, golf disruption, golf innovation, golf technology, lean startup, modgolf, modgolfpodcast, nextlinks, realitee, simon sinek, the modgolf podcast

Host Colin Weston speaks with Dave Shultz, founder and CEO of NextLinks. Dave is a passionate golfer and entrepreneur who has developed the technology to fuel the future of golf entertainment experiences. On this episode, we hear about Dave's transformational journey from engineer to entrepreneur, lessons he's learned along the way and the business he is poised to scale up.