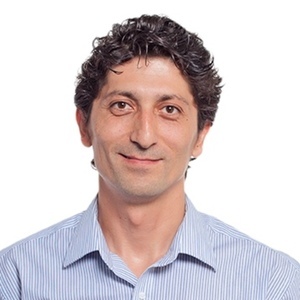 Dogu Taskiran - CEO of Stambol Studios
Special guest
Dogu Taskiran is the CEO of Stambol Studios, a Vancouver-based creative technology studio specializing in highly immersive content and experiences through Virtual and Augmented Reality. Dogu is an expert Software Engineer and a team leader with more than 15 years of experience in highperformance software applications.
He started his career building educational training applications and simulation systems in the defence industry. Following his passion for video games, he moved to Vancouver in 2006 and worked on several award-winning titles as a Lead Gameplay Programmer at Electronic Arts, and as the Studio Tech Lead and Expert Engine Programmer at Ubisoft.
His love for highly-scalable projects further led him to join Microsoft as a Senior Software Engineer, where he built core graphics components of a large systems incubation project and helped define Microsoft's future technology stack. Together with his brother, he cofounded Stambol Studios in 2016 to help their clients innovate by combining creativity with the power of disruptive technologies to build experiences that bridge the gap between physical and digital realities.
Dogu Taskiran - CEO of Stambol Studios has been a guest on 2 episodes.
April 1st, 2019 | Season 5 | 24 mins 56 secs

#growgolf, dogu taskiran, entrepreneurship, future of golf, gia bocra liwski, golf canada, golf channel, golf experiences for her, golf genius, golfboo, hype sports innovation, innovation, jofit, kenexit, latina golfers, laurence applebaum, lean startup, matthew pringle, modgolf, modgolfpodcast, new rules of golf, nextlinks, pga, stambol studios, startup, tagmarshal, tour edge golf, usga, we are golf

Host Colin Weston recaps the best from each of our twelve Season 5 guests, along with a preview of Season 6 which will premiere on April 9th.

December 7th, 2018 | Season 5 | 40 mins 4 secs

#growgolf, ar, ar/vr, augmented reality, dogu taskiran, drive shack, entrepreneurship, future of golf, golf channel, innovation, mixed reality, modgolf, modgolfpodcast, mr, nextlinks, pga, stambol, stambol studios, startup, topgolf, usga, virtual reality, vr, vr/ar, we are golf

"Virtual Reality can trigger both people's imagination and intense emotions, creating a bond between the experience and yourself". This episode we speak with Stanbol Studios CEO Dogu Taskiran about how Virtual, Augmented and Mixed Reality will impact and influence the future of golf entertainment experiences, fan participation and game performance improvement.