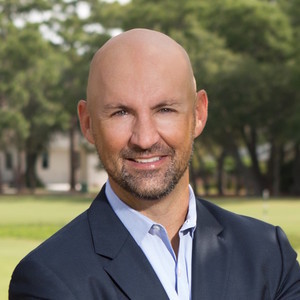 Laurence Applebaum - CEO, Golf Canada
Special guest
With a sports management career spanning nearly 25 years in Canada, Europe and the United States, Laurence Applebaum proudly returned home when he was named Chief Executive Officer of Golf Canada, the National Sport Federation and governing body for golf in Canada in July of 2017.
In his role as CEO, Applebaum oversees the executive management and strategic direction of Golf Canada's multi-faceted business which includes Membership & Sport; Commercial Operations overseeing all revenue and marketing activities; fostering key relationships at the provincial, national and international level; and conducting Championships including the RBC Canadian Open and CP Women's Open. Applebaum also represents Golf Canada on numerous committees and advisory councils including the Golf Canada Foundation, National Golf Foundation, the International Golf & Health Initiative, the PGA TOUR's President's Cup, the Canadian Olympic Committee and We Are Golf comprising the leadership of the Canadian golf industry.
The Toronto native previously served five years as Executive Vice President of the Women's Tennis Association (WTA) in St. Petersburg, Florida, where he oversaw a variety of strategic and operational initiatives. During his tenure, Applebaum was responsible for the day-to-day operations of the women's professional tennis circuit including tournament operations; on-site competition; player relations and development; sports science and medicine; broadcast operations and new business development.
Prior to joining the WTA, Applebaum served as the Toronto-based Vice President of Salomon Canada from 2006-2011. Previously, he held a variety of progressively senior roles at Wilson Sports and the brands of its parent company—Amer Sports—including Atomic, Suunto and Precor based in Europe. After starting his career at Wilson Sports Equipment Canada, Applebaum also served as Sales & Marketing Manager at Nike Golf Canada from 1997-1999.
Married with two children, Applebaum is a 1994 graduate of the Richard Ivey School of Business at Western University where he received an Honours in Business Administration (HBA) degree.
Laurence Applebaum - CEO, Golf Canada has been a guest on 2 episodes.
April 1st, 2019 | Season 5 | 24 mins 56 secs

#growgolf, dogu taskiran, entrepreneurship, future of golf, gia bocra liwski, golf canada, golf channel, golf experiences for her, golf genius, golfboo, hype sports innovation, innovation, jofit, kenexit, latina golfers, laurence applebaum, lean startup, matthew pringle, modgolf, modgolfpodcast, new rules of golf, nextlinks, pga, stambol studios, startup, tagmarshal, tour edge golf, usga, we are golf

Host Colin Weston recaps the best from each of our twelve Season 5 guests, along with a preview of Season 6 which will premiere on April 9th.

March 18th, 2019 | Season 5 | 47 mins 9 secs

#growgolf, acura, british columbia golf, canadian open, entrepreneurship, future of golf, golf canada, golf channel, innovation, kris jonnason, laurence applebaum, lean startup, modgolf, modgolfpodcast, pga, startup, we are golf

"As a governance body we have a responsibility to take the obstacles down and make golf more welcoming as a sport". Golf Canada CEO Laurence Applebaum joins us to discuss how they strive to be a world leader in transforming and growing the game. Listen in as Laurence speaks to how "The platform of diversity and inclusion is going to put this sport on a trajectory that we haven't seen before".