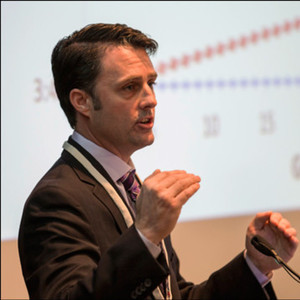 Matthew Pringle - Senior Director of Research, Science & Innovation with The USGA
Special guest
Matt joined the USGA in 2000 after completing his doctoral thesis at McMaster University. He was hired to the position of Research Engineer and from 2000 to 2016, held the positions of Sr. Research Engineer, Research Manager, and Technical Director in the Equipment Standards group. Beginning in 2016, Matt has lead a new team at the USGA called Research, Science, & Innovation with a mission to create innovative tools that help golf facilities improve the golf experience and reduce the consumption of key resources. Most recently, his team organized the 2017 North American Golf Innovation Symposium in Vancouver, BC and unveiled the USGA Resource Management tool which enables golf facilities to quantify and conduct what-if scenario analysis on the resources used to maintain their course.
Some of Matt's contributions to the USGA include the invention of the pendulum test for spring effect in drivers, the USGA TruFirm turf firmness measurement system used at all USGA championships as well as many other PGA TOUR and major golf championships. Matt is also the co-inventor of the USGA's GrooveScan portable groove measurement system and the USGA's flagstick pace of play tool. He is also the inventor or co-inventor on seven United States patents related to golf.
In 2010 Matt was named to Sports Illustrated's GOLF's 40 Under 40: The most influential people in golf under 40-years-old.
Matt graduated from Queen's University (1993) with a bachelor's degree in mechanical engineering and then joined the consulting engineering firm of Hatch Associates prior to pursuing his doctorate. Responsibilities at Hatch included conceptual and preliminary design activities, mainly in heavy industry including ferrous and non-ferrous smelting.
Matthew Pringle - Senior Director of Research, Science & Innovation with The USGA has been a guest on 1 episode.
March 4th, 2019 | Season 5 | 41 mins 53 secs

#growgolf, entrepreneurship, future of golf, golf channel, innovation, lean startup, matthew pringle, modgolf, modgolfpodcast, pga, startup, usga, we are golf

How do you innovate within an industry that is steeped in tradition and history? The USGA's Senior Director of Research, Science & Innovation Matthew Pringle joins us to discuss how they reconcile the need to move the sport forward while respecting the past. Listen in as Matt describes how they progress the sport they love through a combination of technology-enabled solutions, Lean Startup methodology and a human-centric experience design approach.