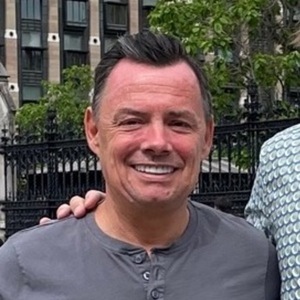 Paul McEldon, CEO at ClubFace-Golf
Special guest
Paul is a father of two keen young golfers who is passionate about open, fair and safe communication. He has worked in media and marketing throughout his career.
Paul is driven to create a business that has a legacy of positivity for all that utilise their platforms whilst at the same time driving a business that offers value for customers and stakeholders.
The Clubface-book ltd suite of vertical social networks strives to encourage users to go back to the heady days when social media was fun and engaging and participation was risk free and rewarding. This can only be achieved by having a healthy respect for different and alternative views and removing hate and prejudice.
Paul McEldon, CEO at ClubFace-Golf has been a guest on 1 episode.
August 4th, 2023 | Season 14 | 39 mins 45 secs

clubface golf, entrepreneurship, fan experience, future of golf, golf business, golf industry, golf social platform, innovation, modgolf, modgolf podcast, modgolfpodcast, online golf community, paul mceldon

"What dawned on me was that if this whole golf community of diverse yet like-minded people could come in a place that was safe and relevant, would there be space for them?" So that's when we created the first version of ClubFace-Golf. Paul McEldon - CEO ClubFace-Book joins host Colin Weston to share how his team has created the "Facebook for golfers".