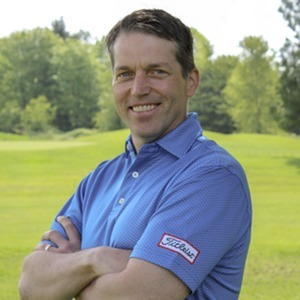 Tom Monaghan - President, Monaghan Golf Group
Special guest
A Class 'A' PGA Professional, Tom has operated Monaghan Golf Group since 2009. Tom served seven years on the Board of the PGA of Canada – including two years as Secretary - in addition to sitting on the British Columbia Advisory Board of the National Golf Course Owners Association (NGCOA). In 2012, Tom was awarded the Fore Season Golf Professional Award from the NGCOA; in 2014 he was awarded the Golf Professional of the Year from the PGA of BC.
Tom also serves as the head teaching pro at Fraserview Golf Course in Vancouver, which hosted a Women's Golf Day event in both 2017 and 2018.
Tom's favourite golf experience is playing 18 holes at Royal Dornoch along the eastern coast of Scotland on a rare, sunny day. When not on the course, Tom enjoys travel, Crossfit, hiking, skiing and spending time with his family.
Tom Monaghan - President, Monaghan Golf Group has been a guest on 2 episodes.
October 24th, 2018 | Season 4 | 20 mins 47 secs

aimee cho, callaway, entrepreneurship, footjoy, future of golf, gcsaa, golf and life, golf apparel, golf channel, golf podcast, golf with aimee, innovation, jay karen, kinona, michael breed, modgolf, modgolfpodcast, national golf day, ngcoa, pga show, rhett evans, startup, topgolf, wearegolf, women's golf day, womens fashion, womens golf, womens golf clothes

Well, that's a wrap for Season 4 of The ModGolf Podcast! Our passionate team of content creators are feverishly working on your next twelve episodes for Season 5, which launches on October 31. We heard some amazing stories from a diverse group of guests who discussed how technology, entertainment experiences, music, celebrity, hospitality and community building intersect to shape the future of golf.

June 14th, 2018 | Season 4 | 31 mins 52 secs

#blueoceanshift, #growgolf, #womensgolfday, blue ocean strategy, city of vancouver, elisa gaudet, entrepreneurship, future of golf, golf, golf innovation, lean startup, modgolf, modgolfpodcast, monaghan golf group, startup, tom monaghan, topgolf, vancouver, vancouver park board, vangolf, we are golf, women's golf day

This week Colin travels to Fraserview Golf Course in Vancouver to hear the experiences of the participants and creators celebrating this lively and fun Women's Golf Day event. Started three years ago by Founder Elisa Gaudet, Women's Golf Day is a one-day global event that encourages girls and women to play golf and learn skills that last a lifetime.