"Often at a big company there's not that culture of trying new ideas. But if you imbrace innovation, fail fast during the effort and you learn from it, that could be the next great big success. So it's really, really important from a cultural perspective to think more entrepreneurial, to take more risks and then to celebrate those successes along with those failures.".... Marc Simon on The ModGolf Podcast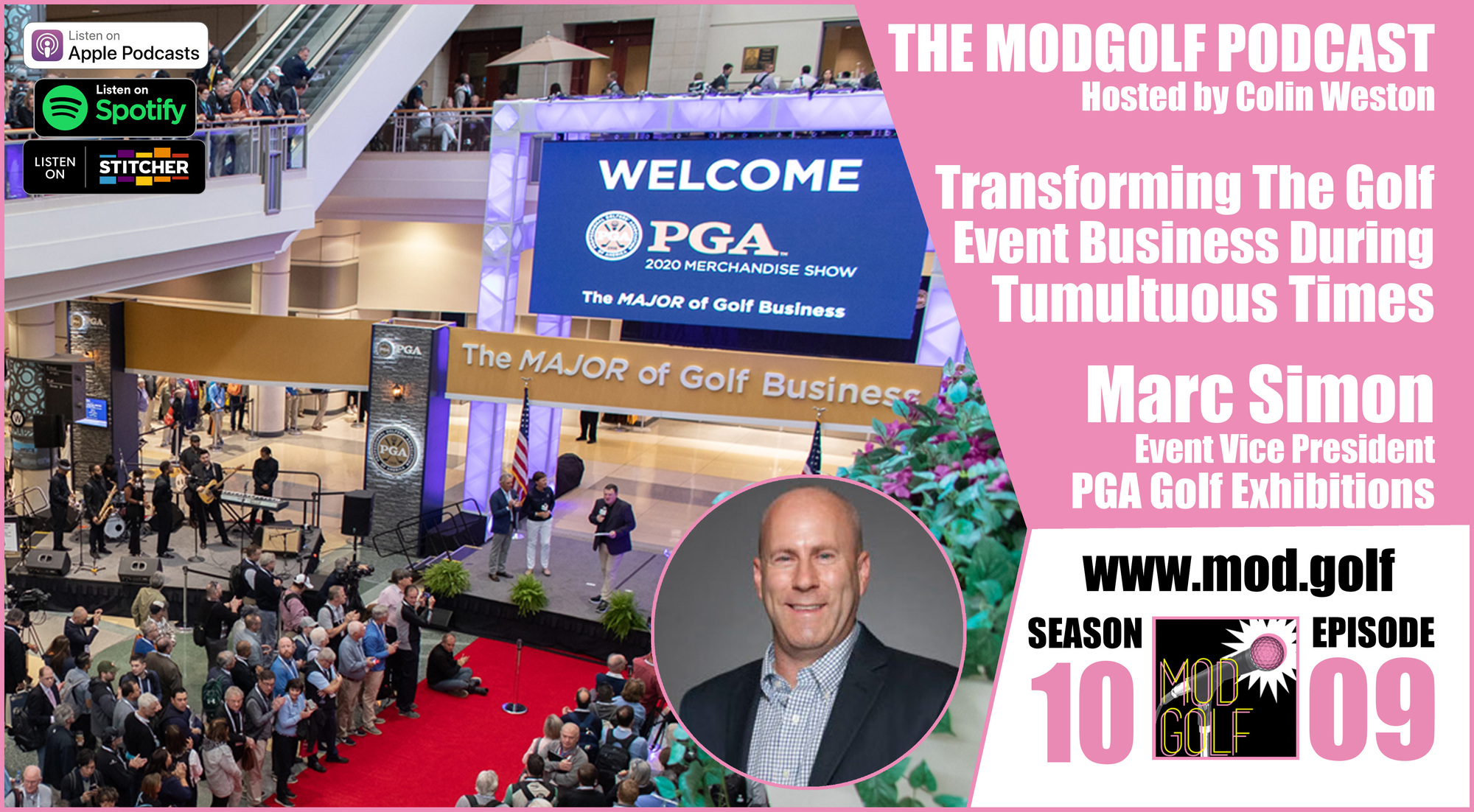 Click on the image below to check out our extended conversation with Marc on our Youtube Channel!
[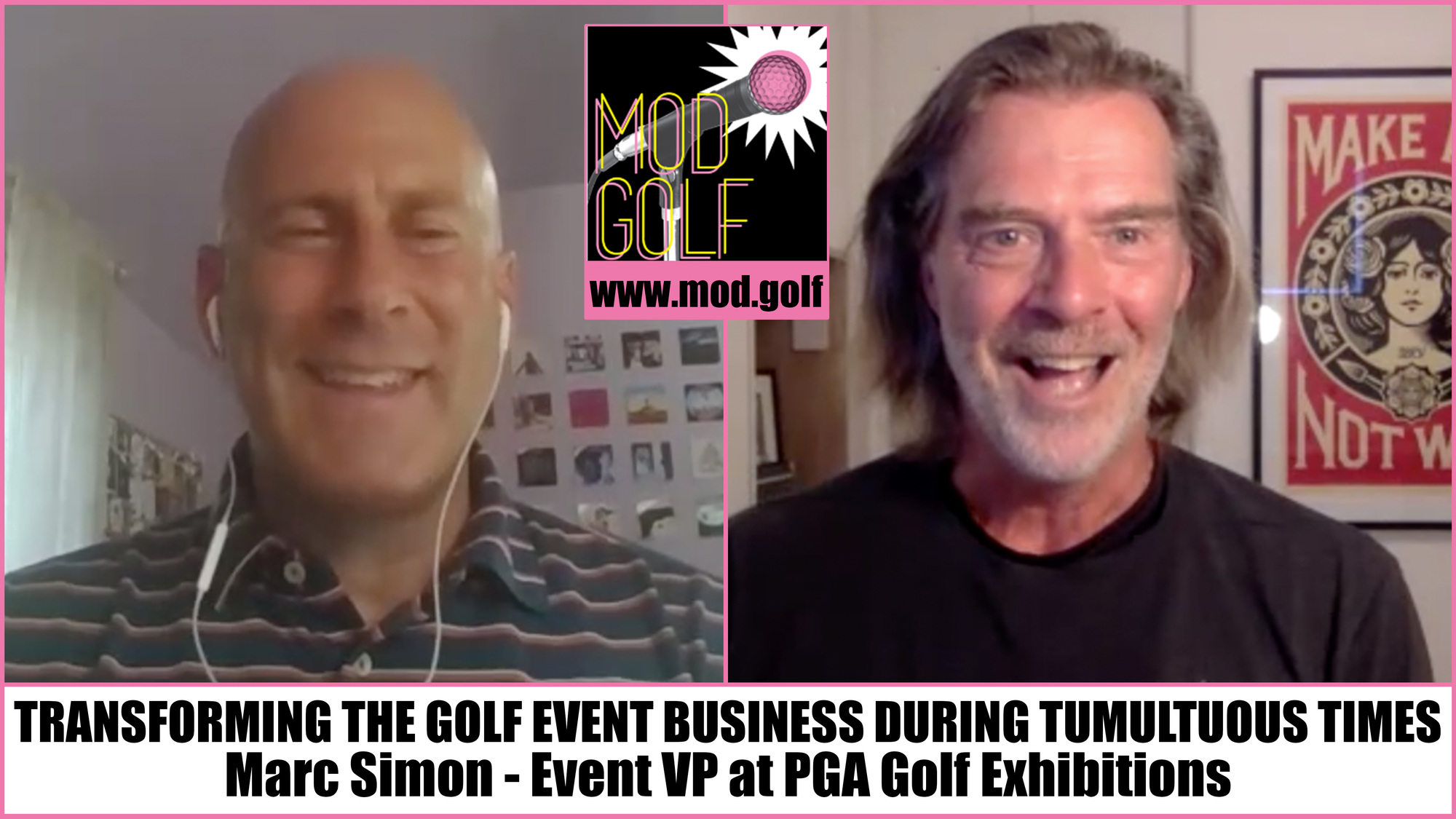 Want to learn more about The PGA Show and RX Global? Visit their websites for information and pre-registration for The 2022 PGA Merchandise Show in January 25-28 2022 in Orlando.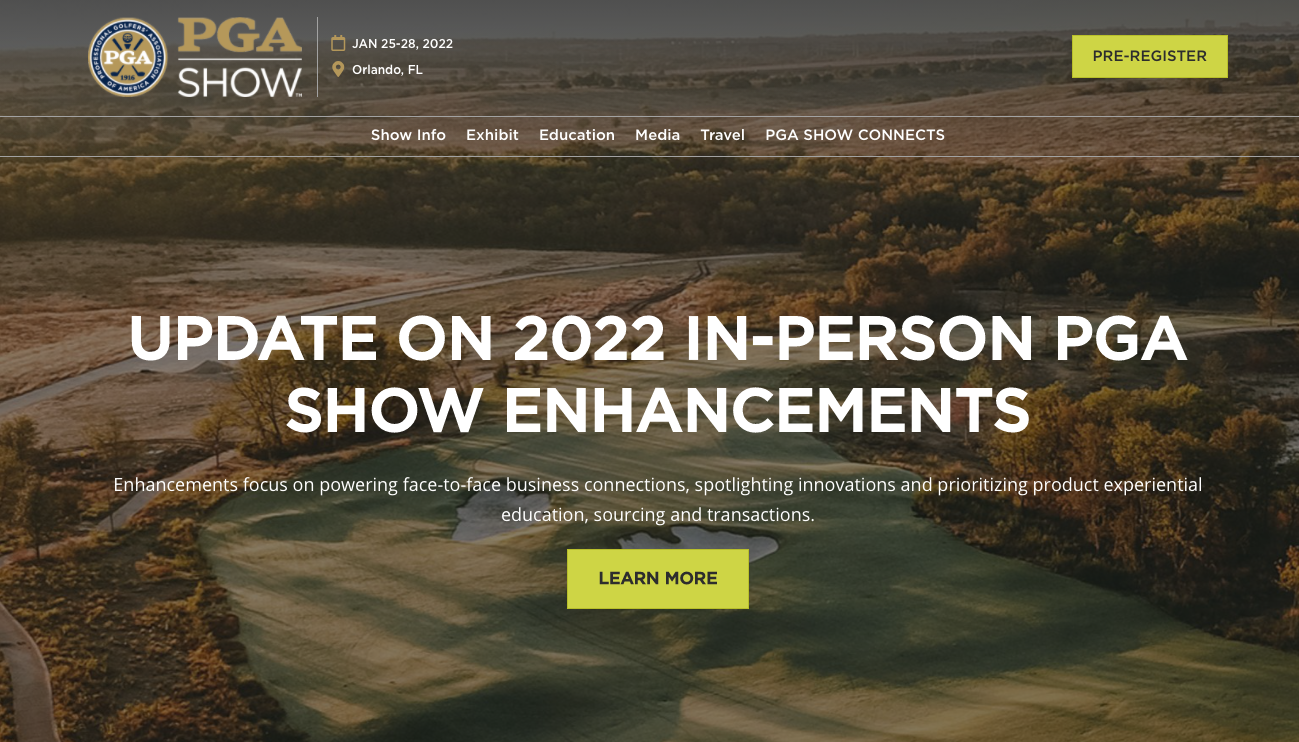 You can learn more about Marc on his bio page.
Show Notes and Marc Quotes
"The PGA Merchandise Show really focuses on three different areas: The one to one connections, some kind of marketplace for exhibitors, being able to showcase their goods and services and then the educational piece and then trying to improve those elements through time, while also offering something experiential to keep people connected and engaged."
"COVIID forced us to be more entrepreneurial while a lot of times big corporations are not. We definitely had to think fast and we definitely had to take a lot more risk and not be afraid to fail."
PGA of America and PGA Golf Exhibitions Provide Update on 2022 In-Person PGA Show Enhancements
PALM BEACH GARDENS, Fla. (August 19, 2021)
PGA Golf Exhibitions, in partnership with the PGA of America, is progressing with previously announced PGA Show initiatives to refresh and grow the 69th annual flagship event, January 25-28 2022 in Orlando. Event and programming enhancements focus specifically on powering face-to-face business connections, spotlighting innovations and prioritizing product experiential education, sourcing and transactions. PGA Golf Exhibitions and the PGA of America will continue to closely monitor and implement health and safety standards, based on CDC guidelines, local public health guidance and host venue protocols, to support a safe and comfortable experience at the 2022 PGA Show. 
"With feedback from industry stakeholders, we are reimagining various aspects of the PGA Show to build the businesses of exhibitors and attendees through programs which will enhance product experiences and learning, buying opportunities and face-to-face connections," said PGA Golf Exhibitions Vice President Marc Simon. "Following the successful conclusion of the recent in-person buying and education summit held Aug. 9-10 in Las Vegas, we are optimistic about providing an elevated PGA Show experience while prioritizing the health and well-being of our guests. We look forward to an exciting 2022 PGA Show where the golf industry reunites, celebrates rising consumer engagement and works together for the continued growth of golf."
Current enhancements planned for the 2022 PGA Show include:
• Creating a new PGA of America Hub on the Show Floor inside the main Central Lobby entrance of the Orange County Convention Center. Attendees will enter to a full-scale golf activation area featuring a PGA Frisco 2022 Opening preview; "Make Golf Your Thing" campaign programming; PGA Professional coaching demonstrations; golf industry programs; a PGA Professional lounge; PGA Career Services and activations for Association initiatives and business partners.
• Reimagining the Equipment Test Center to feature technology enhancements on the indoor driving range, while relocating the practice putting green and the former short game test area nearby the Equipment Test Center to create one centralized golf product testing and experiential space.
• Emphasizing clubfitting education during the event's traditional demo day, in partnership with PGA Magazine.  Clubfitting programming, education, vendors and range-side content will be added, and the event will move forward with the new name of PGA Show Demo and Fitting Day, the world's largest professional demo and fitting education event.
• Re-organizing educational offerings, in partnership with the PGA of America and the Association of Golf Merchandisers, to prioritize PGA Professional and golf buyer time with exhibitors during Show floor hours. The 2022 educational programs will be scheduled with less overlap during Show Floor hours, and most Show Week education programs will be available virtually after the event.
• Implementing enhanced sustainability measures with the host facility and service vendors, reducing the Show's carbon footprint, and highlighting industry and exhibitor sustainability initiatives.
Relocating the fashion buyer lounge, and the annual fashion show, to a more prominent Apparel Hall setting for easy access to peer meetings and networking.
• Enhancing technology access on site and integrating digital platforms to positively impact product discovery, testing and purchasing, educational access, registration and planning/logistics.
• Continuing the focus on health and well-being practices during all PGA Show Week events.
Exhibitor participation is on track with the 2020 in-person PGA Show and media partners of the PGA Show and the PGA of America are set to return to the PGA Show Floor. Additionally, attendees can expect a return of popular PGA Show partners, pavilions, and programming, including the AGM Golf Retail Conference, NGCOA Golf Business Conference, PGA Member Business Center, New Product Zone, Inventors Spotlight exhibitor pavilion, live fashion show, golf travel pavilion, Adaptive Golf Center and the TPI Golf Fitness, Wellness & Instruction pavilion and stage.
Additional details on enhancements will continue to be announced leading up to the 2022 PGA Show. Event details and early registration information is available at www.PGAShow.com.
About PGA Golf Exhibitions
The PGA Show, PGA Buying & Education Summit and PGA Show Connects are organized in partnership by PGA Golf Exhibitions and the PGA of America.  Since its inception in 1954, the PGA Show has grown into the largest annual business event for the global golf industry. Regional PGA Show Buying & Education Summits and the PGA Show Connects digital platform connect the industry year-round and drive business leading up to the annual PGA Show. Learn more at PGAShow.com and follow us on Twitter, Instagram and Facebook.
About the PGA of America
The PGA of America is one of the world's largest sports organizations, composed of nearly 28,000 PGA Professionals who work daily to grow interest and inclusion in the game of golf. For more information about the PGA of America, visit PGA.com and follow us on Twitter, Instagram and Facebook.
Contacts:
PGA Worldwide Golf Exhibitions/Media:  Sherry Major, [email protected]
PGA Worldwide Golf Exhibitions/Exhibitors:  Greg Scott, [email protected]
PGA of America/Media: Michael Abramowitz, [email protected]