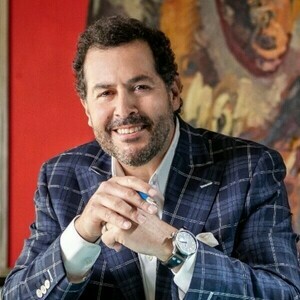 Agustín Pizá - Founder and Architect with Pizá Golf Design
Special guest
Award winning architect Agustin Pizá has earned a Bachelor of Architecture degree from ITESM and a Master's Degree in Golf Course Architecture from Edinburgh University in Scotland. He is a proud member of both the European Institute and the American Society of Golf Course Architects.
For 23 years, Pizá has worked with legends of the game and world class golf developments. His designs are known for delivering quality, aesthetic, and strategic golf courses.
Pizá Golf has been recognized with many international accolades and has garnered a reputation for "Re-defining Golf Facilities" with their concepts – Wellness Golf and Lounge Golf. Agustin Pizá was recognized by Forbes Magazine as one of the top 100 creative minds from Mexico and Golf Inc. Magazine included him in their Power 2020 issue as an up-and-coming superstar.
Pizá and the company have worked and have been involved in more than 60 projects on three continents.
For more information on Pizá Golf, visit the company website: www.pizagolf.com
Agustín Pizá - Founder and Architect with Pizá Golf Design has been a guest on 2 episodes.
December 13th, 2021 | Season 10 | 21 mins 23 secs

agustin piza, arjun chowdri, bryan crawford, chris noble, dr. greta anderson, full swing simulators, golf business, golf canada, golf podcast, golfballs.com, golfhers, jeehae lee, kelly hunt, lisa o'hurley, lohla sport, marc simon, matt fisher, modgolf, modgolf podcast, mr. short game, nextgengolf, pga of america, pga show, rbc canadian open, ron powers, southworth development, swing suite, tom cox, topgolf

That's a wrap for Season 10 of The ModGolf Podcast! Our team is currently working on your next twelve episodes for Season 11, which launches early January 2022. We heard some amazing stories from a diverse group of guests who discussed how inclusion, technology, entertainment, music, celebrity, hospitality and community building intersect to shape the future of golf.

November 10th, 2021 | Season 10 | 30 mins 2 secs

agustín pizá, design thinking, future of golf, golf architecture, golf business, golf entertainment, golf experience design, golf innovation, modgolf, modgolfpodcast, nextlinks, piza golf

"When I graduated from architecture school, I said "why can't I mix in golf?" So every afternoon I went to practice golf and then I got it. I started to feel it and that was my sign to fuse my two passions: architecture and sports through golf. Since then, I haven't looked back." Agustín Pizá - Founder and Architect at Pizá Golf Design joins us to share the importance of design thinking and its impact on new golf experiences.