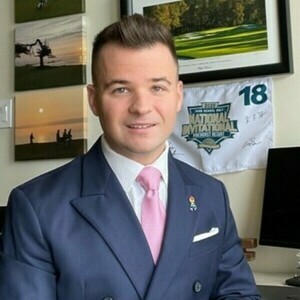 Chris Noble - Nextgengolf's National High School Golf Association Manager
Special guest
Growing up in a small Midwest Michigan town within a religious and conservative family, Chris led a life that was not his own. The culture of golf is not one that traditionally embraces his lifestyle. This led Chris to seek change.
Noble played competitive golf since the age of seven. In high school, he was a four-year member of the Michigan All-State team and went on to play varsity at Holy Cross College at Notre Dame. He was later named NAIA Academic All-American his junior and senior years, helping his team compete at the NAIA National Championship in 2012.
Noble seeks to make golf a sport of inclusivity; not one that is elitist towards race, gender or sexual orientation. As Nextgengolf's NHSGA Manager, he's made a significant impact on a new wave of golfers providing affordable, team-based golfing opportunities for non-collegiate golfers.
Chris Noble - Nextgengolf's National High School Golf Association Manager has been a guest on 2 episodes.
December 13th, 2021 | Season 10 | 21 mins 23 secs

agustin piza, arjun chowdri, bryan crawford, chris noble, dr. greta anderson, full swing simulators, golf business, golf canada, golf podcast, golfballs.com, golfhers, jeehae lee, kelly hunt, lisa o'hurley, lohla sport, marc simon, matt fisher, modgolf, modgolf podcast, mr. short game, nextgengolf, pga of america, pga show, rbc canadian open, ron powers, southworth development, swing suite, tom cox, topgolf

That's a wrap for Season 10 of The ModGolf Podcast! Our team is currently working on your next twelve episodes for Season 11, which launches early January 2022. We heard some amazing stories from a diverse group of guests who discussed how inclusion, technology, entertainment, music, celebrity, hospitality and community building intersect to shape the future of golf.

October 10th, 2021 | Season 10 | 40 mins 49 secs

diversity and inclusion, future of golf, golf business, golf experience, high school golf, innovation, lgbtq rights, modgolf, modgolfpodcast, nextgengolf, pga of america, pinehurst, youth golf

"Who would've ever thought this kid who grew up in one of the poorest parts of the country would be on a national stage playing at Pinehurst and competing for a national high school title. When you hear stories such as that, it makes it so worthwhile." Chris Noble - Manager for NextGenGolf's National High School Golf Association - joins us to share the meaningful work he passionately takes on with The PGA of America and the support he provides for the LGBTQ+ community.