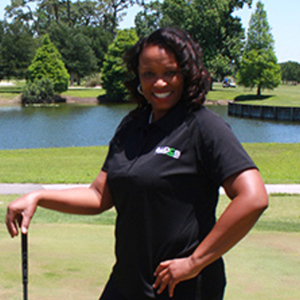 Clemmie Perry - Founder & Director, Women of Color Golf & Girls On the Green Tee
Special guest
Clemmie Perry started playing golf in 2013 and is turning her passion into a national movement to make a difference in the lives of women & girls through the sport of golf. In 2014, she started Women of Color Golf (WOCG), and Girls On the Green Tee (GOTG-T), which are programs designed to increase and facilitate minority participation in the sport of golf for women and girls. In three short years, they have introduced over 350 minority women & girls to the basic fundamentals of golf in the Tampa and St. Petersburg, Florida Bay area & Washington, D.C.
The Women of Color Golf (WOCG) and Girls on the Green Tee (GOTG-T) programs have grown into a national recognized, community-based program, with recent recognition by former President Barack Obama, as a U.S. White House Champion of Change for After School Extra Curricula Enrichment for Marginalized Girls.
Clemmie Perry has over 20 years' experience working for two Fortune 500 companies (Lockheed Martin Corporation and Florida Power & Light Company). At Lockheed Martin Corporation, Ms. Perry served as the Corporate E-Learning Training Manager. She was responsible for managing virtual learning teams and developing online corporate training materials for 130,000 Aerospace & Defense employees. At Florida Power & Light Company in Miami, she was responsible for electrical distribution systems training and the implementation of smart grid & smart meter technology training programs. She also owns her own training development & consulting company, Educational Training Consultants (E.T.C), www.etrainingconsult.com
Clemmie earned her B.S. degree from Florida A&M University, Tallahassee, Florida and an M.S. from Nova Southeastern University, Ft. Lauderdale, Florida.
She is a member of the National Council of Negro Women (NCNW), Florida A&M University Alumni Association, National Football League (NFL) Cheerleader Alumni Association and Executive Women Golf Association (EWGA) She currently serves on the World Golf Foundation (WGF) Diversity Task Force and is a Board Member for the Florida Sports Hall of Fame (FSHOF).
Clemmie Perry - Founder & Director, Women of Color Golf & Girls On the Green Tee has been a guest on 1 episode.
November 14th, 2017 | Season 2 | 31 mins 11 secs

#growgolf, clemmie perry, colin weston, empowering women, future of golf, girls on the green tee, golf, golf disruption, golf innovation, golf technology, lean startup, modgolf, modgolfpodcast, steve mona, the modgolf podcast, women of color golf

"Make a difference in my community". That was Clemmie Perry's guiding principle that motivated her to use golf as the platform to empower women and girls of color shortly after picking up the game only a few years ago. Her entrepreneurial vision and passion, combined with finding the personal courage to step outside her comfort zone has lead to the creation of both Women of Color Golf Founder and Girls On The Green Tee.