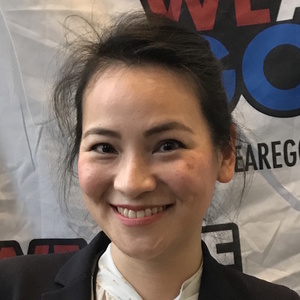 Delphine Tseng - Founder and President, Landseer Communications & Consulting
Special guest
Before Delphine became a golfer, she has been an avid environmentalist. Delphine's first degree was in languages and literature from National Chiao Tung University in Taiwan, she then went to Rensselaer Polytechnic Institute for Science and Technology Studies.
Her background gives her the ability to understand and translate different languages, from Chinese, German, to math and science. She understands that golf and sustainability are not mutually exclusive. She has been involved with environmental education for more than 15 years.

Delphine with her Golf Course Wild Habitat Coloring Book at National Golf Day
Delphine Tseng - Founder and President, Landseer Communications & Consulting has been a guest on 1 episode.
May 29th, 2018 | Season 4 | 54 mins 40 secs

#growgolf, about golf, buffalo.agency, capital hill, diversity, future of golf, golf, golf 2020 diversity task force, golf channel, golf disruption, golf innovation, golftec, inclusion, michael breed, modgolf, modgolfpodcast, startup, steve mona, the first tee, topgolf, we are golf, wearegolf, world golf foundation

Our host Colin Weston travels to Capital Hill in Washington to both participate in and reveal some compelling stories from National Golf Day 2018.