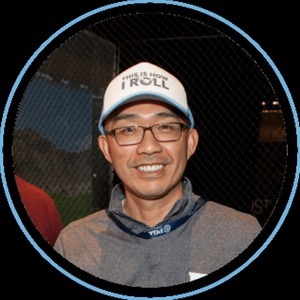 Eddy Lui - Founder and CEO, 18Birdies
Special guest
Eddy Lui, Founder and CEO of 18Birdies, is a self-described gadget geek who given the chance, would spend a couple years in the wilderness just to be amazed by all the new technology upon his return. Eddy began his career at the global consulting firm Bain & Company and then at Fairlook Capital. After 20 years of successfully building and growing technology startups, he combined his business experience with his passion for golf and founded 18Birdies. Today, Eddy is the visionary and driving force behind 18Birdies, the mobile golf platform that enhances the experience between golfers and the courses they love to play through technology, social and gaming.
Eddy received a Master's of Science Degree in Electrical Engineering from Brown University.
Eddy Lui - Founder and CEO, 18Birdies has been a guest on 1 episode.
November 7th, 2017 | Season 2 | 30 mins 11 secs

#growgolf, 18birdies, eddy lui, entrepreneur, future of golf, golf, golf disruption, golf innovation, golf technology, lean startup, modgolf, modgolfpodcast, nextgengolf, paige spiranic, startup, the modgolf podcast

18Birdies is the fastest growing golf community in the mobile app space, as they have crossed the startup chasm from "skeptics wondering if their cool idea would make it" to "these guys are still here, they're getting bigger, stronger and achieving more success". Founder and CEO Eddy Lui speaks with host Colin Weston about his inspiration for creating 18Birdies, the evolution of their product offerings through customer insights and their ambitious plans to scale up quickly through the strategic partnerships they have secured.