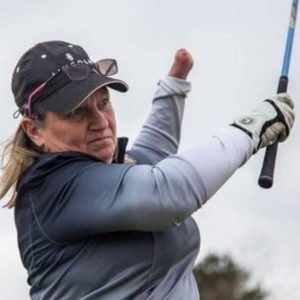 Gianna Rojas, aka: The "One Handed Lady Golfer" - Founder of Adaptive Golfers
Special guest
Known worldwide as "The One-Handed Lady Golfer", Gianna Rojas, was born without fingers on her left hand, forcing her to learn early on to adapt herself to whatever life threw at her. She founded Adaptive Golfers then launched [AdaptiveGolfers.org ](AdaptiveGolfers.org )to serve as a resource for people with different abilities, helping them play to the best of their potential.
Gianna was recently named to The LPGA Women's Network "Meet the Disruptors: 22 Women who are Spearheading a Revolution in Golf" list.
She stated that "It is such an honor to be named in this prestigious list of woman who are making a difference in peoples lives through golf. Adaptive Golfers is all about using golf to improve the quality of life for individuals with cognitive, physical, sensory, health and age related challenges. Golf lends itself very well because it is an activity that can be played alone of with others. I like to say it is between you, the ball and the hole. Neither the ball or the hole care if you roll it with your nose or if it even gets there. It is the conduit to get individuals out of bed, out of the house, and out of their heads. I like to call it Adaptive Golf Therapy!"
Gianna Rojas, aka: The "One Handed Lady Golfer" - Founder of Adaptive Golfers has been a guest on 2 episodes.
October 24th, 2018 | Season 4 | 20 mins 47 secs

aimee cho, callaway, entrepreneurship, footjoy, future of golf, gcsaa, golf and life, golf apparel, golf channel, golf podcast, golf with aimee, innovation, jay karen, kinona, michael breed, modgolf, modgolfpodcast, national golf day, ngcoa, pga show, rhett evans, startup, topgolf, wearegolf, women's golf day, womens fashion, womens golf, womens golf clothes

Well, that's a wrap for Season 4 of The ModGolf Podcast! Our passionate team of content creators are feverishly working on your next twelve episodes for Season 5, which launches on October 31. We heard some amazing stories from a diverse group of guests who discussed how technology, entertainment experiences, music, celebrity, hospitality and community building intersect to shape the future of golf.

June 6th, 2018 | Season 4 | 43 mins 2 secs

#growgolf, entrepreneurship, future of golf, gianna rojas, golf, golf disruption, golf innovation, lean startup, modgolf, modgolfpodcast, startup, topgolf

Gianna Rojas has turned the physical challenge she was born with into her entrepreneurial secret sauce. Listen in as The "One Handed Lady Golfer" shares with us how she found strength from childhood bullying and isolation to discover her sense of purpose through the game of golf.