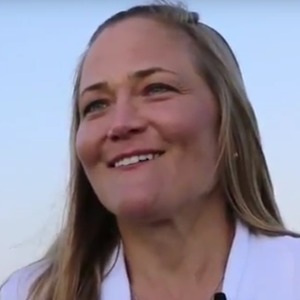 Jennifer Poth - Founder and CEO, Operation Support Military Golf
Special guest
Jennifer Poth was born at the former Wurtsmith Air Force Base in Oscoda, MI with Congenital Adrenal Hyperplasia, also known as an Adrenal Disorder. Upon the doctor's realization that her condition was critical, she was flown via military aircraft to the University of Michigan's Medical Center. Unfortunately, her Adrenal Disorder has forever prevented her from following in her father's, Lt. Col. John E. Poth, USAF Ret., footsteps by serving in the U.S. military.
At the age of five, Ms. Poth was introduced by her father to the game of golf, and it has been a major part of her life ever since. She earned four letters at Westlake High School in Austin, TX. After high school, she signed a letter-of-intent with Texas A&M University due to its high level of academics, athletic standards, and strong military presence.
After college, Ms. Poth decided to set aside her competitive playing career and focus on using her Sports Management degree from Texas A&M. She set out on this journey with the goal of working for the PGA Tour (TOUR), packed up her truck, and drove from College Station, TX to Ponte Vedra Beach, FL. She spent the first six months in Florida scrubbing clubs and networking at TPC Sawgrass, ultimately earning a position traveling more than 26 weeks per year as a Shotlink Producer with the TOUR. Her worldwide travels took her to every golf course on the TOUR's circuit at that time. After seven years working with the TOUR, she realized it was time to pursue other things.
After parting ways with the TOUR, Ms. Poth pursued a two-year master's degree in Sports Management at Jacksonville University (JU). While attending JU, she spent the first year coaching the women's golf team and the second year developing a for-profit consulting company named JP Golf Consulting and Design.
However, while working for herself was rewarding, bettering golf courses throughout Florida did not fulfill her lifetime desire of serving her country. Shortly after the bombings at the Boston Marathon in 2013, Ms. Poth realized a way to serve our military through the game she loves.
Ms. Poth has since devoted her professional career to combining her love and passion for the U.S. military and the game of golf by founding the not-for-profit Operation Support Military Golf, Inc. (OSMG).
[
]
Jennifer and her dad at National Golf Day 2018
Jennifer Poth - Founder and CEO, Operation Support Military Golf has been a guest on 3 episodes.
October 24th, 2018 | Season 4 | 20 mins 47 secs

aimee cho, callaway, entrepreneurship, footjoy, future of golf, gcsaa, golf and life, golf apparel, golf channel, golf podcast, golf with aimee, innovation, jay karen, kinona, michael breed, modgolf, modgolfpodcast, national golf day, ngcoa, pga show, rhett evans, startup, topgolf, wearegolf, women's golf day, womens fashion, womens golf, womens golf clothes

Well, that's a wrap for Season 4 of The ModGolf Podcast! Our passionate team of content creators are feverishly working on your next twelve episodes for Season 5, which launches on October 31. We heard some amazing stories from a diverse group of guests who discussed how technology, entertainment experiences, music, celebrity, hospitality and community building intersect to shape the future of golf.

June 20th, 2018 | Season 4 | 36 mins 12 secs

#growgolf, arnald palmer, entrepreneurship, future of golf, golf, golf disruption, golf innovation, jennifer poth, lean startup, modgolf, modgolfpodcast, operation support military golf, osmg, startup

After federal funding that helped maintain the 145 US military golf courses was cut, Jennifer Poth couldn't stand by idly as they fell into complete disrepair. Coming from a military family, combined with her love for golf motivated Jennifer to take the entrepreneurial leap and make a positive impact in the lives of past, present and future military personal through the game she loves. On this week's episode of The ModGolf Podcast, we learn about Jennifer's journey to create Operation Support Military Golf.

May 29th, 2018 | Season 4 | 54 mins 40 secs

#growgolf, about golf, buffalo.agency, capital hill, diversity, future of golf, golf, golf 2020 diversity task force, golf channel, golf disruption, golf innovation, golftec, inclusion, michael breed, modgolf, modgolfpodcast, startup, steve mona, the first tee, topgolf, we are golf, wearegolf, world golf foundation

Our host Colin Weston travels to Capital Hill in Washington to both participate in and reveal some compelling stories from National Golf Day 2018.