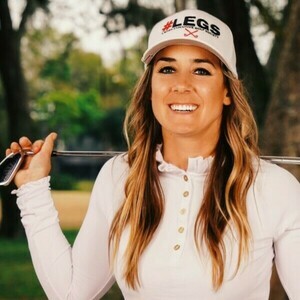 Jillian Foss - Founder of #LEGS - The Ladies Executive Golf Society ⛳️
Special guest
Founder of #LEGS - The Ladies Executive Golf Society ⛳️ | 2020 Professional Business Woman of the Year 🤘🏽| Empowering Women On and Off the Golf Course 💥|
Jillian's passion and super power is connecting and empowering women to build business, confidence and have fun on and off the golf course.
GO-GIVER: Jillian believes life is RECIPROCAL. The more you give, the richer and more beautiful your life becomes.
WOMEN'S EMPOWERMENT: Jillian wants to see more female CEO's, Leaders, and Executives at the top because she believes the world will be a better place. Jillian encourages business networking, growth, and courage through LEGS-Ladies Executive Golf Society-a female-friendly platform for women to learn the game of golf.
Jillian Foss - Founder of #LEGS - The Ladies Executive Golf Society ⛳️ has been a guest on 1 episode.
February 24th, 2023 | Season 13 | 42 mins 42 secs

#legs, entrepreneurship, future of golf, golf business, golf industry, innovation, jillian foss, ladies executive golf society, modgolf, modgolf podcast, modgolfpodcast, pga of america, the pga show, women's golf

I thought, "what can we do to continue to lift up women towards leadership through golf?" because I believe the world would be a better place. So I set out to accomplish this mission and have some fun while we're at it. LEGS Ladies Executive Golf Society Founder Jillian Foss joins us to share how she combines her passion with a sense of purpose.