That's a wrap for Season 13 of The ModGolf Podcast! Our team is currently working on your next twelve episodes for Season 14, which launches early July 2023. We heard some amazing stories from a diverse group of guests who discussed how inclusion, technology, entertainment, music, celebrity, hospitality and community building intersect to shape the future of golf.
______________________________________________
If you love golf, we have exclusive deals on golf gear and services that we use and support! We launched The ModGolf Pro Shop to offer you - our ModGolfers - 10-20% OFF exclusive discounts using promo code MODGOLF. We have curated a diverse selection of awesome brands like KINONA, deWiz Golf, ODIN Golf, Back2Basics Golf, Deuce and Project72Golf to help you play better and look great while doing it.
CLICK TO SHOP AND SAVE.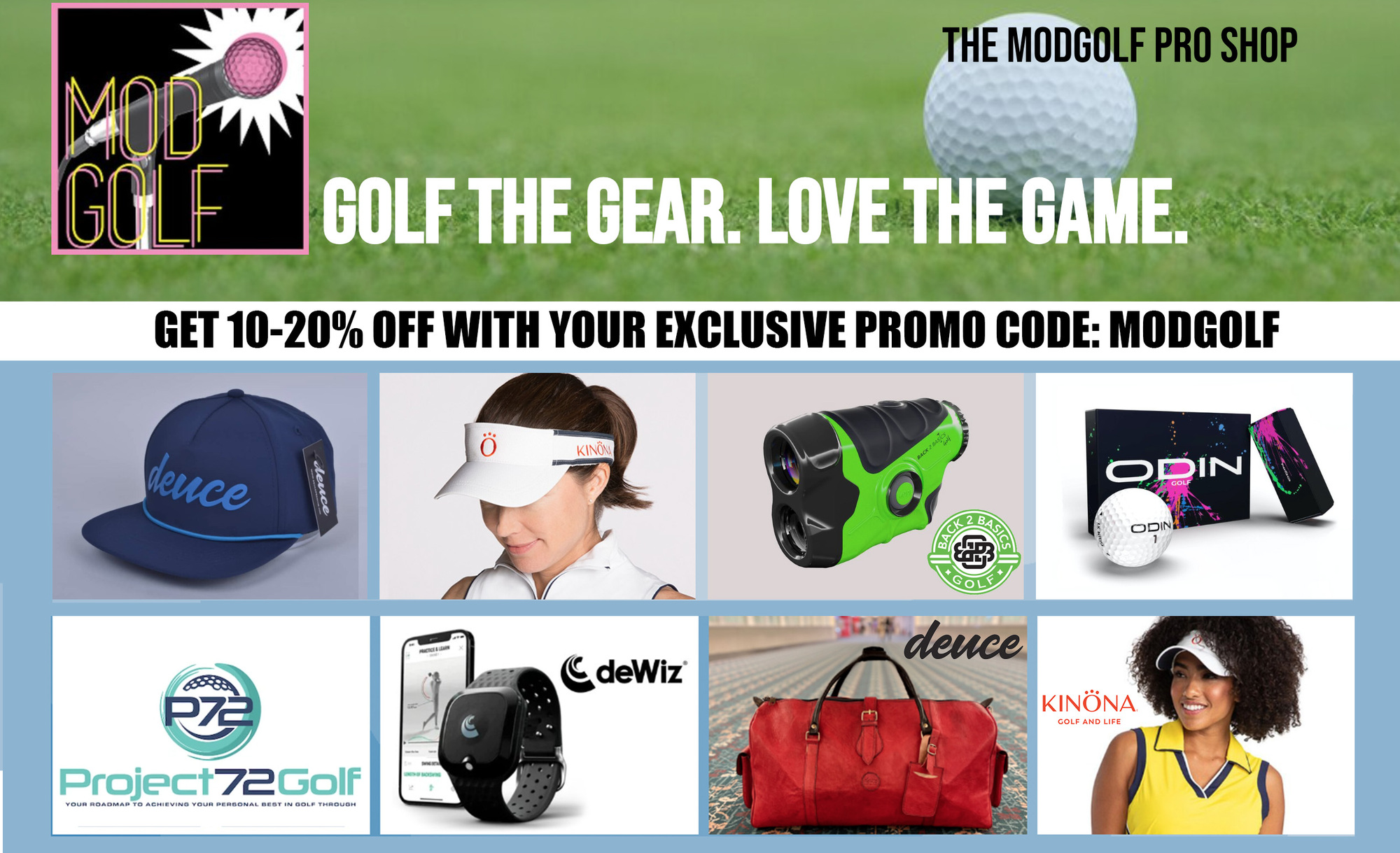 ______________________________________________
If you didn't get the chance to listen to all of our twelve Season 13 episodes, this bonus show gives you a recap of the great conversations I had with some of the golf industry's top influencers, innovators and entrepreneurs. Hopefully this will inspire you to listen to a couple of the episodes listed below. Let us know which ones you enjoyed the most and why you liked them!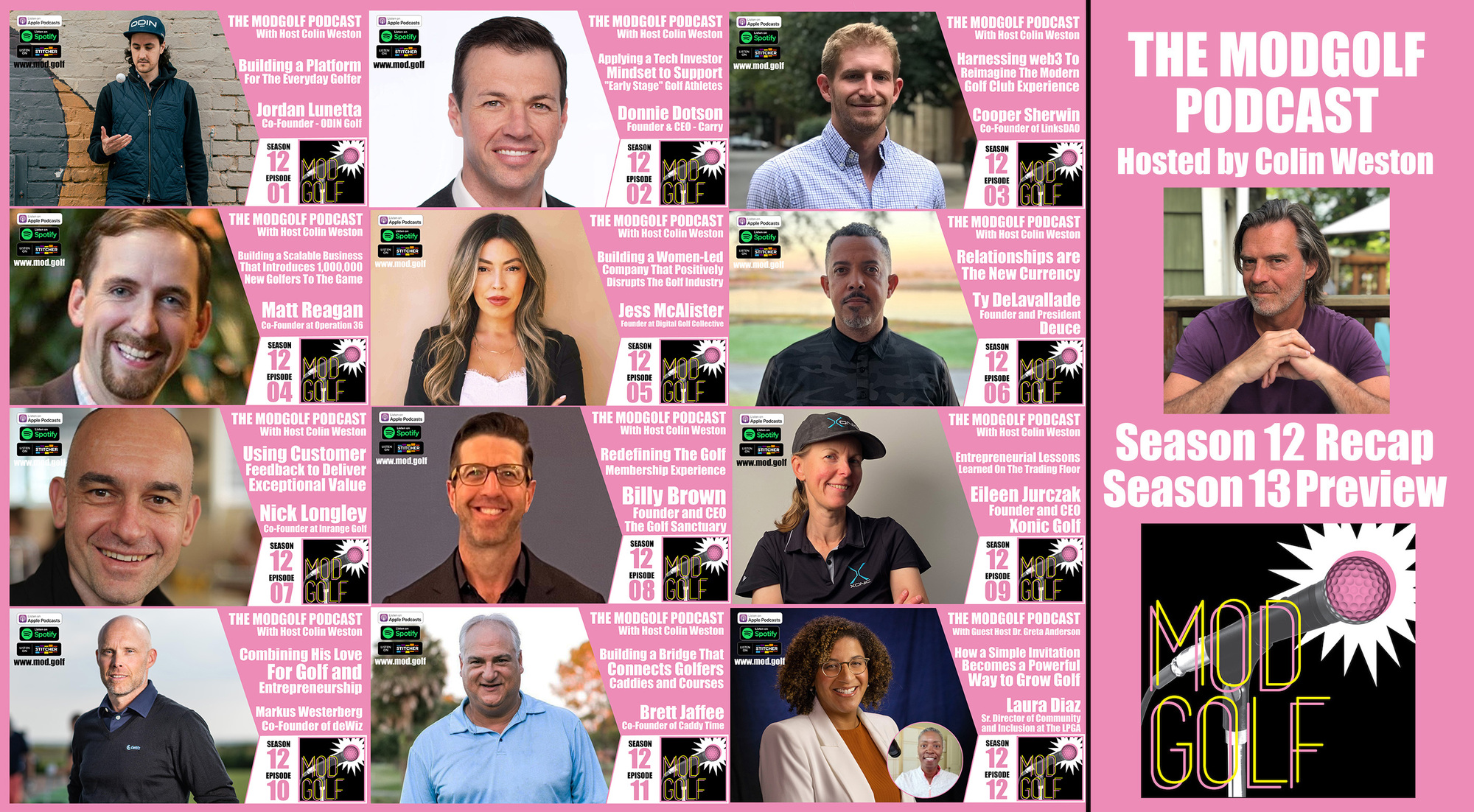 Our Season 13 guests were:
Episode 1
John Simpson - Founder and Chairman - On Course Foundation
"Being disabled myself, I chatted with a few of the injured veterans and told them what had happened to me. I saw some of them looking back at me and I realized that golf was something they could do. That's when I thought, "if we could start a charity which teaches golf on a long-term basis with the idea of then getting them some form of employment within the golf and related industries, that if we could do that, that would be quite something". And that's where it all started." We open Season 13 with an inspirational conversation with John Simpson, Founder of On Course Foundation.
Click to listen >> MAKING A DIFFERENCE: SUPPORTING THE RECOVERY OF INJURED VETERANS THROUGH GOLF
Episode 2
Kat Ramirez - Founder of Golfing Buddy
"Golf is a great game to get to know people. That's why we go on the golf course with new people and spend four hours with them. It's because golfers really want to have a good time, instead of feeling like they're not good enough. So Golfing Buddy was created to empower people to find other people just like them to go play golf with."... Kat Ramirez, Founder of Golfing Buddy joins us to share how to successfully self-fund a startup as a side hustle.
Click to listen >> CONNECTING GOLFERS WITH LIKEMINDED PLAYING PARTNERS
Episode 3
Bob Winskowicz - Founder of SQAIRZ
Working for Arnold Palmer and having "The King" in your mentorship corner is one of many positive experiences that Bob Winskowicz - Founder of SQAIRZ - has as part of his secret sauce. Host Colin Weston learns about the influences that helped shape Bob's world view to become the entrepreneur and business leader that he is today.
Click to listen >> DO A COMMON THING IN AN UNCOMMON WAY
Episode 4
Nick Conrad - Founder of Twilight Golf Association
"I thought it wasn't crazy that you could pull together lots of strangers and create a golf league out of it. If I could allow those people that regularly fill out the tee sheet to create organized games, that really would resonate." Twilight Golf Association Founder Nick Conrad joins us to share how partnering with a technology company has turbocharged his startup.
Click to listen >> SCALING A GOLF STARTUP WITH PARTNERSHIPS
Episode 5
Lesley and Clare McMahon - Breaking the "grass ceiling" in the golf industry
Colin was invited to attend The NGCOA Canada Conference in Vancouver, where he sat down with the mother/daughter duo of Lesley and Clare McMahon to learn about the world of owning and operating a golf course. Lesley also shares her experience as the first female president of The National Golf Course Owner's Association Canada and Clare talks about the challenges and opportunities for women in the golf industry.
Click to listen >> BREAKING THE GRASS CEILING - A MOTHER/DAUGHTER DUO WHO ARE CHANGING THE GOLF LEADERSHIP LANDSCAPE
Episode 6
Ryan Engle - Founder of GOLF+
"My first virtual reality putt was 20-footer uphill with a left-to-right break. I hit it and put it 6 inches past the hole, burning the edge on the left. I thought, "Wow that felt exactly like hitting a putt." After that magical moment I said to the team "okay you know what, we're going to pivot 100% into VR." Ryan Engle, Founder and CEO of GOLF+ joins us to share how his love for writing code and playing golf led to the creation of the golf industry's leading VR gaming platform.
Click to listen >> PERSEVERANCE, PIVOTING AND THE ABILITY TO CONTINUOUSLY ADAPT
Episode 7
LIVE from the 2023 PGA Show with former guests Lydia Davies and Billy Brown
Colin returns to The PGA Show in Orlando and was ready to record a podcast but his guest no-showed! Not to worry, as Colin spots previous show guest Lydia Davies walking by and asks her to join him for a spontaneous chat about what's cool at the show. Minutes later another previous guest jumps in to take this fun-filled conversation to the next level.
Click to listen >> LIVE FROM THE 2023 PGA SHOW!
Episode 8
Jillian Foss - Founder of #LEGS
I thought, "what can we do to continue to lift up women towards leadership through golf?" because I believe the world would be a better place. So I set out to accomplish this mission and have some fun while we're at it. LEGS Ladies Executive Golf Society Founder Jillian Foss joins us to share how she combines her passion with a sense of purpose.
Click to listen >> NO RISK = NO FUN
Episode 9
Jewel Love - Society 61
"We know the golf industry has to be updated, the culture of it. To diversify that means you're willing to make changes that you never thought of making, to think differently and open up your mind in new ways." Jewel Love, Board Member and Advisor for Society 61 and The Society 61 Foundation joins us to share how their apparel brand acts as the platform to support young elite African American golfers.
Click to listen >> BREAKING DOWN BARRIERS TO CREATE THE NEXT GENERATION OF GOLF LEGENDS
Episode 10
Scott Stratten - Founder of UnMarketing
After experiencing Scott Stratten's inspirational keynote talk at the NGCOA Canada conference in Vancouver, host Colin Weston sits down with the creator of UnMarketing to learn how the golf industry can flourish by embracing the virtues of authenticity, integrity and community.
Click to listen >> YOU DON'T KNOW WHAT IT'S LIKE TO WORK FOR YOU
Episode 11
Brian Esposito - Founder/CEO of Esposito Intellectual Enterprises
"I've been through hell and back, made every mistake you can think of and I'm honoured to share those experiences with the great companies that we get to work with." Brian Esposito, Founder/CEO of Esposito Intellectual Enterprises shares how he helps web3 sport and entertainment tech companies thrive and succeed.
Click to listen >> TIME IS OUR MOST PRECIOUS COMMODITY
Episode 12
Steve Madden - Co-Founder of Swingtweaks
"After playing for the first time five years ago, I grinded away at the range over 60 times that winter in stall 107 just hitting balls till my hands bled. I was addicted. I made a decision a few years ago that I wanted to create a lifestyle, or a job where I could golf and do my own thing tech-wise." Swingtweaks Co-Founder Steve Madden joins us to share entrepreneurial lessons learned in the golf industry.
Click to listen >> FIND CLARITY THROUGH ACTION
______________________________________________
After testing the deWiz biofeedback swing analysis product we were so impressed with the results that we invited them to offer you an exclusive 10% OFF your purchase using promo code MODGOLF! CLICK TO SAVE on deWiz to see (and feel) lasting results in your swing tempo, length and path improvement.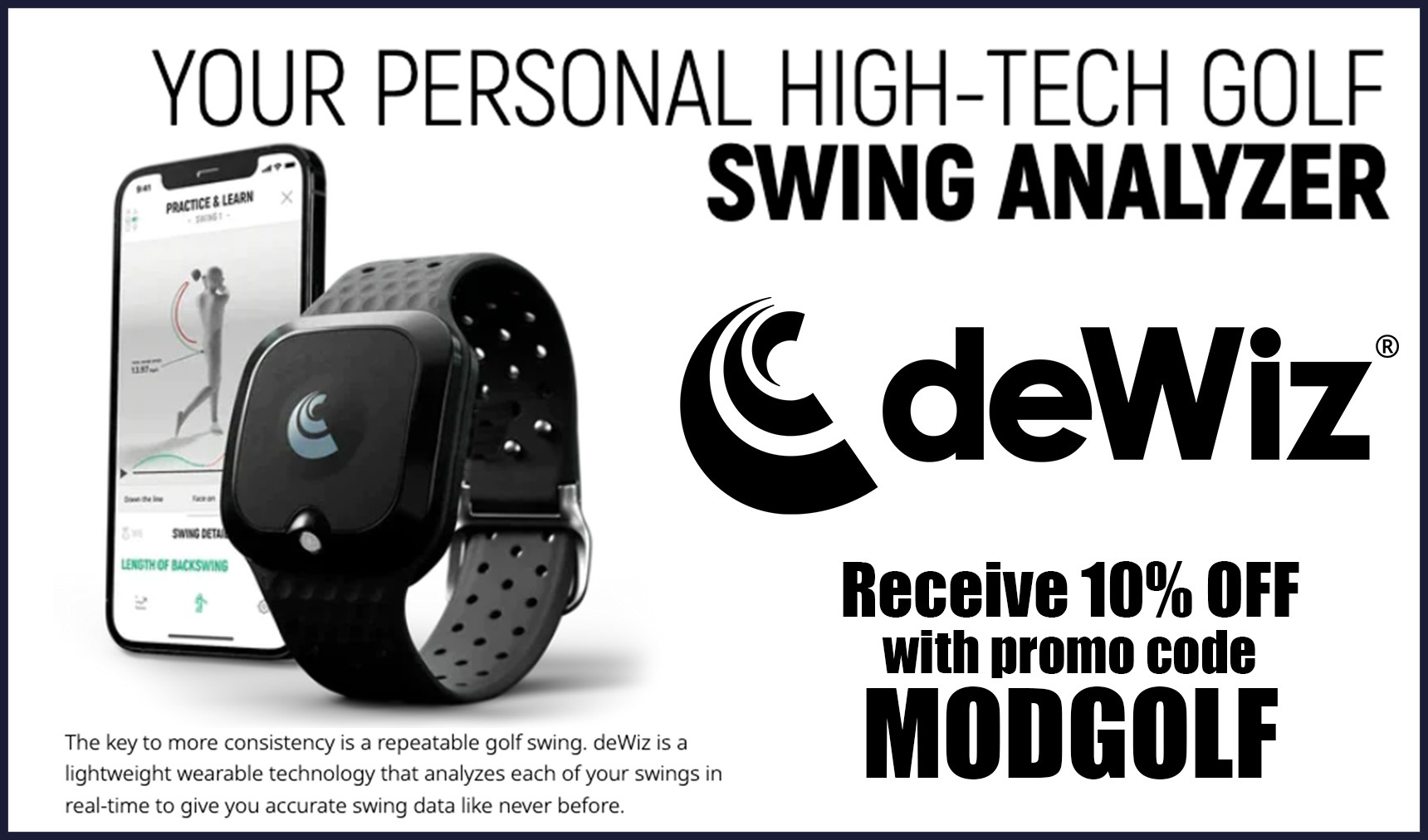 ______________________________________________

We want to thank our sponsor partner Golf Genius Software for helping support The ModGolf Podcast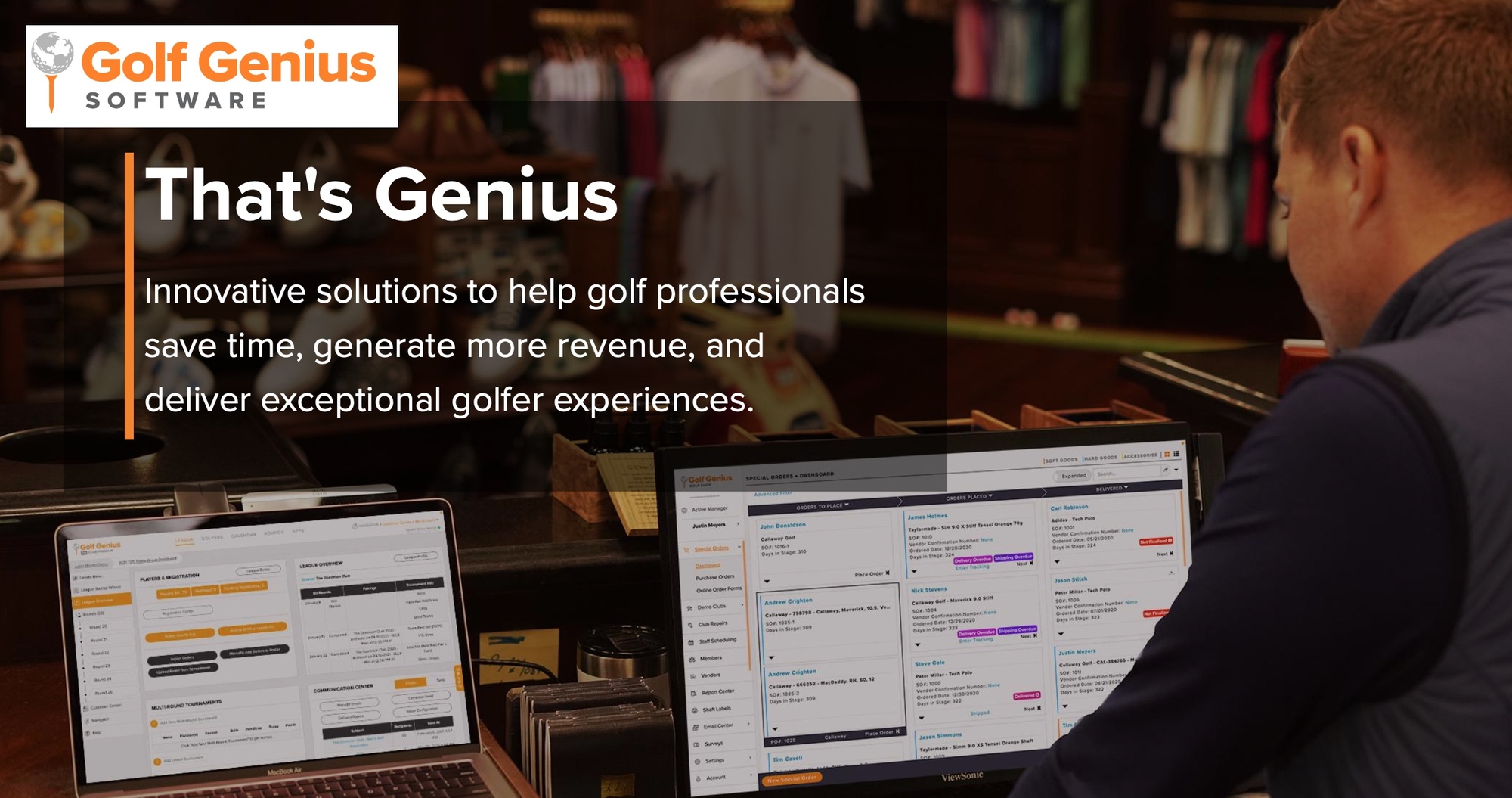 Golf Genius powers tournament management at over 10,000 private clubs, public courses, resorts, golf associations, and tours in over 60 countries. So if you're a golf professional or course operator who wants to save time, deliver exceptional golfer experiences, and generate more revenue, check them out online at golfgenius.com.