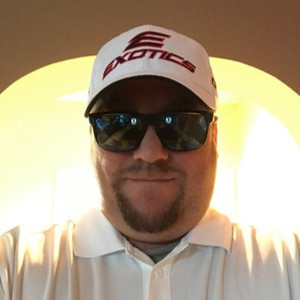 Jon Claffey - Vice President of Marketing for Tour Edge Golf
Special guest
Over the last 17 years, Jon has proven himself to be a catalyst for success with every company for which he has worked. These companies have gone from small start-ups to major players in the sporting goods industry under his tenure due to a variety of factors. The one constant that remains the same is his boundless passion for marketing and public relations work. He was once called "the kid with the magic touch" due to his ability to get our products featured on TV, radio and in print, but really the secret was his passion for the work and loyalty to the products that he marketed.
Jon's responsibilities taught him how to be a self-motivated leader who is used to being a one-man band in charge of everything marketing under the sun, giving him the all important asset of being an expert multi-tasker with a wide variety of specialties and experiences.
His cookie jars have included the following: leading an independent sales team and training the customer service and inside sales departments, overseeing substantial PGA TOUR budgets while utilizing social media to build buzz, creating new brand identities and sales strategies, creating key relationships and writing advertising copy and press releases that inspired others to change the way they were describing their own company and products. Jon has been a trend setter in the golf industry and has the know how and the desire to bring a company to the next level.
Previously Jon was the National Director / Sales & Marketing for Volvik.
Jon Claffey - Vice President of Marketing for Tour Edge Golf has been a guest on 3 episodes.
April 1st, 2019 | Season 5 | 24 mins 56 secs

#growgolf, dogu taskiran, entrepreneurship, future of golf, gia bocra liwski, golf canada, golf channel, golf experiences for her, golf genius, golfboo, hype sports innovation, innovation, jofit, kenexit, latina golfers, laurence applebaum, lean startup, matthew pringle, modgolf, modgolfpodcast, new rules of golf, nextlinks, pga, stambol studios, startup, tagmarshal, tour edge golf, usga, we are golf

Host Colin Weston recaps the best from each of our twelve Season 5 guests, along with a preview of Season 6 which will premiere on April 9th.

February 18th, 2019 | Season 5 | 50 mins 16 secs

#growgolf, azucena mondelano, diversity and inclusion, entrepreneurship, future of golf, golf channel, innovation, latina golfers, michael cooper, modgolf, modgolfpodcast, new balance, pga show, sandy cross, startup, steve mona, tagmarshal, tour edge, tour edge golf, usga, we are golf

We continue our recap of the PGA Merchandise Show with more engaging conversations with the innovators, entrepreneurs and community builders who are helping shape the future of golf. Host Colin Weston speaks with Latina Golfers Association Founder Azucena Moldenado, Tagmarshal Co-Founder and CEO Bodo Sieber, Tour Edge VP of Marketing Jon Claffey, Golf Scope Founder Ryan Engle and Perry Reynolds with New Balance Golf.

September 12th, 2017 | Season 2 | 1 hr 7 mins

#growgolf, future of golf, golf, golf channel, golf innovation, justin james, lisa longball, maurice allen, modgolf, modgolf podcast, sandra carlborg, topgolf, volvik, volvik usa, winstar, winstar world resort and casino, world long drive

We open Season Two as host Colin Weston travels to Oklahoma to cover the Volvik World Long Drive Championship. There Colin speaks with the players, fans, creators, owners and sponsors to reveal how Golf Channel plans to transform what was a niche golf novelty event into a mainstream sport entertainment property.