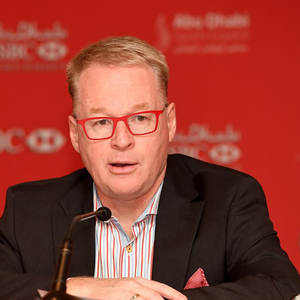 Keith Pelley - CEO of The DP World Tour
Special guest
Keith said he was very honoured to be joining The DP World Tour as its new CEO at an exciting stage in its development. The Tour already has a highly regarded reputation and on taking the job, he looked forward to building on this using my previous experience in both media and sports to ensure it remains at forefront of the game across the globe.
"Throughout my career in North America, it has been a privilege to work with the best sports organizations, athletes, and media assets. I am excited to build on these experiences on the international stage." Pelley stated.
Keith Pelley Biography
Business
Keith Pelley was appointed President, Rogers Media in 2010 and is responsible for leading the overall operations of the company's diverse portfolio, including Television, Radio, Publishing, Digital Media, The Shopping Channel, subscription-based content services, Toronto Blue Jays, and Rogers Centre. Under Pelley's leadership, Rogers Media operates as a fully integrated media company, delivering world-class content and leveraging synergies and opportunities across all lines of business.
A passionate sports advocate, Pelley has 30 years of experience in the sports and media industries. Prior to joining Rogers Media, Pelley was Executive Vice-President of Strategic Planning at CTVglobemedia and President of Canada's Olympic Broadcast Media Consortium, where he led Rogers's and CTV's unprecedented coverage of the Vancouver 2010 Olympic Winter Games. Under Pelley's vision and guidance, the Consortium delivered the Top 5 most-watched events in Canadian television history, with 99 per cent of the Canadian population experiencing the Games through one of the Consortium's media platforms. The Consortium won a record seven Gemini Awards for its cross-platform coverage of Vancouver 2010, including Best Live Sporting Event.
Pelley was President and CEO of the Toronto Argonauts Football Club (2003 to 2007), where under his leadership, the club rose in popularity with average home-game attendance more than tripling in just four years. In his first full year with the club, Pelley helped guide the Argos to the 2004 Grey Cup title.
Pelley began his career in 1984 as an on-air personality at OMNI Television, which is now part of the Rogers Media suite of assets. He joined TSN in 1986, where he worked for 16 years in various roles of increasing responsibility. Pelley began as an Editorial Assistant in the newsroom and worked his way up to Senior News Producer and Event Producer for CFL, curling, tennis and baseball. In 1994, Pelley left TSN for FOX, where he worked as a game producer for NFL, NFL Europe, NHL, and MLB. He returned to TSN in 1997 as Senior Vice-President of Programming & Production and was appointed President in 2001, where he remained until 2003 before joining the Argonauts.
Pelley devotes much of his time to numerous charitable organizations, including Holland Bloorview Kids Rehabilitation Hospital Foundation and serves on the Board of Jays Care Foundation. He has received a number of industry awards and recognition, including twice named Media Player of the Year (2012, 2011), Ryerson Alumni Achievement Award (2011), member of the Etobicoke Sports Hall of Fame (2011) and Special Olympics Ontario Sponsors Hall of Fame (2007), and Miles Nadal JCC Sportsman of the Year (2006).
Pelley is a graduate of Ryerson University with a B.A. in Radio and Television Arts, and also received an ATCL diploma from Trinity College in London, England.
Keith Pelley - CEO of The DP World Tour has been a guest on 1 episode.
May 15th, 2017 | Season 1 | 33 mins 27 secs

#growgolf, europen tour, golf, golf disruption, golf innovation, golfsixes, lean startup, modgolf, modgolfpodcast, rolex series

Today's guest is Keith Pelley, CEO of the European Tour. In less than two years from taking the helm, Keith has transformed the culture and vision of the European Tour from its traditional role to become an innovative, entrepreneurial-minded "entertainment content company where golf is our platform" that looks to boldly move golf forward.