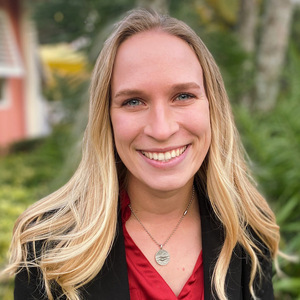 Kelly Hunt - Founder of GolfHers
Special guest
Kelly Hunt is the Founder of Golfhers, the community and platform for female leaders in the golf industry. This platform was created because Kelly saw a need for a community that connects women in the golf industry, because so few of us exist. Women only make up about 5% of PGA Class A professionals and less than 30% of women's college teams are coached by women, which plummeted from 90% after the passing of Title IX in 1972.
It's been a mission for the PGA to get more women involved in golf. But what about women in the golf industry? We need more women filling leadership positions to be the mentors and advocates for the younger generation. This platform is not just a place to share stories; it is a place of inspiration, motivation, and empowerment through our community of Golfhers.
Kelly runs this page by herself and it is completely nonprofit. When she first started this in January of 2020, Kelly dreamed to have Golfhers merchandise available for purchase where all proceeds will fund a scholarship for the PGA/LPGA programs. Now, that dream is a reality. One day, Kelly wants Golfhers to be part of the PGA/LPGA with meetups at major events.
If you ever have feedback or want to help out and get involved in this community in any way, send Kelly an email at [email protected] or send a direct message on Instagram (@golf.hers). Any and all ideas are welcome!
Kelly Hunt - Founder of GolfHers has been a guest on 2 episodes.
December 13th, 2021 | Season 10 | 21 mins 23 secs

agustin piza, arjun chowdri, bryan crawford, chris noble, dr. greta anderson, full swing simulators, golf business, golf canada, golf podcast, golfballs.com, golfhers, jeehae lee, kelly hunt, lisa o'hurley, lohla sport, marc simon, matt fisher, modgolf, modgolf podcast, mr. short game, nextgengolf, pga of america, pga show, rbc canadian open, ron powers, southworth development, swing suite, tom cox, topgolf

That's a wrap for Season 10 of The ModGolf Podcast! Our team is currently working on your next twelve episodes for Season 11, which launches early January 2022. We heard some amazing stories from a diverse group of guests who discussed how inclusion, technology, entertainment, music, celebrity, hospitality and community building intersect to shape the future of golf.

August 11th, 2021 | Season 10 | 35 mins 33 secs

diversity and inclusion, dr greta golf, future of golf, golf, golf channel, golfhers, greta anderson, innovation, kelly hunt, modgolf, modgolfpodcast, pga of america, racial justice, women golf professionals, womens golf

Welcome to Season 10 of The Modgolf Podcast! Our guest host Dr. Greta Anderson sits down with Kelly Hunt - The Founder of GolfHers - to learn how she is building a community platform to increase the number of women in the golf industry from 5% currently to a future goal of 50%.