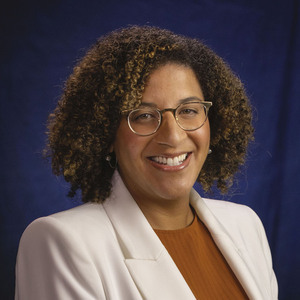 Laura Diaz, Sr. Director of Community & Inclusion at The LPGA
Special guest
Laura Diaz took her first golf lesson in Puerto Rico on her 10th birthday and instantly fell in love with the game. Now working as the LPGA's senior director of foundation operations and diversity, equity and inclusion, Diaz dedicates herself to making the game she loves accessible to as many women and girls as possible.
After developing her skills under the instruction of Faulconer, Laura began playing in tournaments and representing her native Puerto Rico as part of the national team at just 13 years old. At 18, she earned an athletic scholarship to play on the golf team at East Tennessee State.
In 2007, after completing her undergraduate degree in public relations and mass communications from East Tennessee—a slight deviation from her initial plan of becoming a doctor like her father and grandfather—Diaz returned to Puerto Rico and began her career at the Puerto Rico Golf Association. She continued her education at the University of Georgia, earning a master's degree in sports management. Having maintained a relationship with her former colleagues and associates at PRGA and from her days on tour, Diaz landed a dream internship at the PGA Tour, where she was placed at First Tee headquarters. During her eight-year tenure at First Tee, Diaz served as manager of events, managing national programs and events focused on youth leadership, mentorship and character building.
In 2019, Laura joined the LPGA as director of foundation operations, overseeing all programs and services supporting the LPGA Foundation. In this role, the knowledge she gained in her nearly 14 years in the events and operations space, learning the nuances of the industry, are invaluable in leading her team to success. "I don't make my team do anything I haven't done before," she says. I've been in a gravel lot with a little wand from 6 a.m. to 2 p.m. Literally, I've done it all."
Laura was featured in the Sport Illustrated series "Elle-evate: 100 Influential Black Women in Sports".
Laura Diaz, Sr. Director of Community & Inclusion at The LPGA has been a guest on 2 episodes.
November 4th, 2022 | Season 12 | 19 mins 56 secs

black business, black-owned business, caddy time, carry golf investments, deuce, deuce premium, dewiz, digital golf collective, entrepreneurship, future of golf, golf business, golf industry, innovation, inrange golf, linksdao, lpga, modgolf, modgolf podcast, modgolfpodcast, odin golf, operation 36, pga of america, the golf sanctuary, the pga show, ty delavallade, usga, xonic golf

That's a wrap for Season 12 of The ModGolf Podcast! Our team is currently working on your next twelve episodes for Season 13, which launches early December 2022. We heard some amazing stories from a diverse group of guests who discussed how inclusion, technology, entertainment, music, celebrity, hospitality and community building intersect to shape the future of golf.

October 10th, 2022 | Season 12 | 30 mins 6 secs

#makegolfyourthing, dr greta anderson, entrepreneurship, future of golf, golf business, golf industry, innovation, laura diaz, lpga, make golf your thing, modgolf, modgolf podcast, modgolfpodcast, pga of america, project 72, usga

"If you can see it, you can be it". If I can see somebody that looks like me, if there is that representation then I know I can get into this sport, or I can see a career in it." Our guest host Dr. Greta Anderson sits down with The LPGA's Sr. Director of Community & Inclusion Laura Diaz who shares insights gathered starting from her first swing growing up in Puerto Rico.