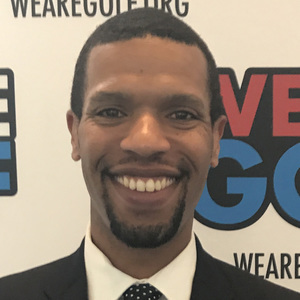 Lewis Myers - Commissioner of The Congressional Golf Association
Special guest
Congressional staffers are trying whatever they can to bring people together in this tough political climate, and Lewis Myers thinks the golf course might be a place to do that.
"The golf ball doesn't really recognize Republican or Democrat, so we should be able to come together and play the game we love," said the six-year Capitol Hill veteran, who is the scheduler for California Democratic Rep. Norma J. Torres.
Myers, 33, launched the Congressional Golf Association and instead of "president," he serves as the association's "commissioner," to borrow from golfspeak.
From playing the game for years, Myers knows that golf can be a great networking activity.
"Obviously, on Capitol Hill, it never hurts to have relationships, and in this era of partisanship, I think this is a great way to kind of break that stalemate and bring offices together," he said.
Myers, who started playing golf in 1998, calls himself a "Tiger Baby," a nod to all-time great Tiger Woods.
"I was inspired when he won the '97 Masters. I was like 'Wow, that's a person of color who I've never seen before. What is this game of golf?'" recalled Myers, a onetime president of the Congressional Black Associates.
He hopes the association gives staffers the opportunity to bring golf to more people of color in the D.C. community, noting that the Langston Golf Course and Driving Range is a mile and a half from Capitol Hill in Northeast Washington.
"It's in an impoverished area of D.C., and the fact is, kids in and around the area don't ever go to the golf course because there's so many barriers to entry when it comes to the game of golf," Myers said. "Golf is a very expensive sport, and that's one of the reasons why people of color and people of certain geographical locations don't have access to the game."
He wants the association to give D.C. children equipment and work with organizations like The First Tee, a youth development organization that teaches golf.
"If CGA can somehow minimize that barrier to entry, I think we've done a good job," he said. Myers is recruiting fellow staffers to join. At the start, he just hopes to have enough people to casually go out on the course together.
"There's an introductory mechanism associated with the organization, because what I found over time is golf can be intimidating for some people who haven't played before," Myers said. "We can have different divisions for people to feel comfortable coming in."
Lewis Myers - Commissioner of The Congressional Golf Association has been a guest on 2 episodes.
October 24th, 2018 | Season 4 | 20 mins 47 secs

aimee cho, callaway, entrepreneurship, footjoy, future of golf, gcsaa, golf and life, golf apparel, golf channel, golf podcast, golf with aimee, innovation, jay karen, kinona, michael breed, modgolf, modgolfpodcast, national golf day, ngcoa, pga show, rhett evans, startup, topgolf, wearegolf, women's golf day, womens fashion, womens golf, womens golf clothes

Well, that's a wrap for Season 4 of The ModGolf Podcast! Our passionate team of content creators are feverishly working on your next twelve episodes for Season 5, which launches on October 31. We heard some amazing stories from a diverse group of guests who discussed how technology, entertainment experiences, music, celebrity, hospitality and community building intersect to shape the future of golf.

May 29th, 2018 | Season 4 | 54 mins 40 secs

#growgolf, about golf, buffalo.agency, capital hill, diversity, future of golf, golf, golf 2020 diversity task force, golf channel, golf disruption, golf innovation, golftec, inclusion, michael breed, modgolf, modgolfpodcast, startup, steve mona, the first tee, topgolf, we are golf, wearegolf, world golf foundation

Our host Colin Weston travels to Capital Hill in Washington to both participate in and reveal some compelling stories from National Golf Day 2018.