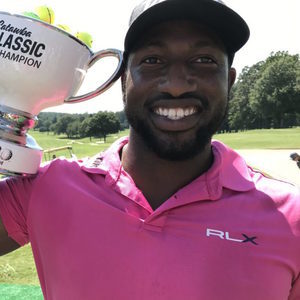 Maurice Allen - World Long Drive Tour Pro Athlete
Special guest
Maurice is a Professional Long Drive Competitor from Pine Hills, Florida. Maurice attended Evans High School where he excelled academically and at sports. After high school, Maurice attended Florida A&M University where he attained his Biology degree in 2010. After graduating from FAMU, Maurice moved to Atlanta to become a chiropractor where he became a student of the game of golf. After countless hours of practice around the Atlanta area, Maurice set a new Guinness World Record for Golf Ball Speed (211 MPH). His longest drive in competition is 483 yards.
In 2013, the Boys and Girls Clubs of American appointed Maurice "Ambassador of Golf". Maurice is a contributor of the PGA's Golf 2.0 program. His mPOWer message addresses purpose, opportunity and the importance of the WOW factor to set his exhibition apart and leaving patrons with an experience they will not soon forget. The Maurice Allen experience employs three strategies of great teachers: creativity, the ability to make the subject relative to the audience and the ability to connect with the audience.
Since 2011, Maurice has competed with continued consistency and strong performances in Long Drive competitions around the globe. In 2015 Maurice competed on the Long Drivers European Tour where he captured the Sweden LDET, Belgium LDET and Italy LDET titles. Maurice earned an exemption into the 2015 World Long Drive Championships Top 64 as a result of winning the Italy Long Drive European Championship. Maurice advanced into the Round of 16 and finished the 2015 World Long Drive Competition with a tie for 9th.
Maurice had an incredible year in 2015. To cap the season, he finished as the Champion of the Volvik Long Drive European Tour where he maintained his #1 ranking throughout the nine championships.
On a personal note, Maurice is committed to giving back to his community. He dedicates his time to the Orlando Minority Youth Golf Association which provides inner-city youth with the opportunity to learn the game of golf while attaining skills to succeed in life.
Maurice Allen - World Long Drive Tour Pro Athlete has been a guest on 1 episode.
September 12th, 2017 | Season 2 | 1 hr 7 mins

#growgolf, future of golf, golf, golf channel, golf innovation, justin james, lisa longball, maurice allen, modgolf, modgolf podcast, sandra carlborg, topgolf, volvik, volvik usa, winstar, winstar world resort and casino, world long drive

We open Season Two as host Colin Weston travels to Oklahoma to cover the Volvik World Long Drive Championship. There Colin speaks with the players, fans, creators, owners and sponsors to reveal how Golf Channel plans to transform what was a niche golf novelty event into a mainstream sport entertainment property.