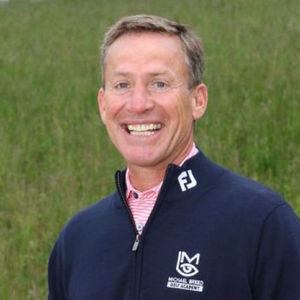 Michael Breed - Host of "A New Breed of Golf" on SiriusXM PGA Tour Radio
Special guest
Michael Breed is the most dynamic, engaging and entertaining teacher the game of golf has ever seen. As the star of the highest rated golf instruction series in the history of Golf Channel, The Golf Fix, Michael has reinvented how golf instruction is presented. Michael is Golf Digest's Chief Digital Instructor, where he focuses on the innovation in golf instruction and oversees the "Best Young Teachers" program.
Michael also hosts "A New Breed of Golf" on SiriusXM PGA Tour Radio every Monday to Friday morning (8am-10am EST). His motivational approach and "Let's Do This" mantra have inspired golfers in more than 80 countries. He operates the Michael Breed Golf Academy at Trump Golf Links at Ferry Point. Michael is ranked as one of the Top 50 Golf Instructors in America by both Golf Digest and GOLF Magazine and was chosen as PGA's National Teacher of the Year in 2012.
Michael Breed - Host of "A New Breed of Golf" on SiriusXM PGA Tour Radio has been a guest on 3 episodes.
October 24th, 2018 | Season 4 | 20 mins 47 secs

aimee cho, callaway, entrepreneurship, footjoy, future of golf, gcsaa, golf and life, golf apparel, golf channel, golf podcast, golf with aimee, innovation, jay karen, kinona, michael breed, modgolf, modgolfpodcast, national golf day, ngcoa, pga show, rhett evans, startup, topgolf, wearegolf, women's golf day, womens fashion, womens golf, womens golf clothes

Well, that's a wrap for Season 4 of The ModGolf Podcast! Our passionate team of content creators are feverishly working on your next twelve episodes for Season 5, which launches on October 31. We heard some amazing stories from a diverse group of guests who discussed how technology, entertainment experiences, music, celebrity, hospitality and community building intersect to shape the future of golf.

August 1st, 2018 | Season 4 | 59 mins 34 secs

#growgolf, #letsdothis, blue ocean strategy, entrepreneurship, future of golf, golf channel, golf digest, golf instruction, innovation, let's do this, michael breed, modgolf, modgolfpodcast, new breed of golf, siriusxm, startup

"I don't care what it is you do with your life as long as you try to be the very best you can be". At 17 years old, Michael Breed received this sage advice from his uncle, who is one of the many influential people that help set the course for his entrepreneurial journey. Michael shares with us the key moments and character traits that have shaped the person he is and the work he so passionately loves.

May 29th, 2018 | Season 4 | 54 mins 40 secs

#growgolf, about golf, buffalo.agency, capital hill, diversity, future of golf, golf, golf 2020 diversity task force, golf channel, golf disruption, golf innovation, golftec, inclusion, michael breed, modgolf, modgolfpodcast, startup, steve mona, the first tee, topgolf, we are golf, wearegolf, world golf foundation

Our host Colin Weston travels to Capital Hill in Washington to both participate in and reveal some compelling stories from National Golf Day 2018.