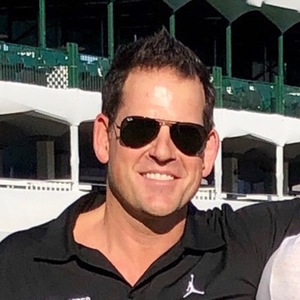 Pete Charleston - GolfLogix Co-Founder and President
Special guest
Pete Charleston has been with GolfLogix since it's inception in 1999 and currently serves as the President. Pete's expertise is in establishing strong sales channels, product development, and fund raising for startup organizations. GolfLogix marks his third such endeavor. Pete and the GolfLogix headquarters reside in Scottsdale Arizona, where he also volunteers with The Thunderbirds to make The Waste Management Phoenix Open the amazing fan experience if has become.
Prior to founding GolfLogix, Mr. Charleston was the Co-Founder/Vice President at Premium Cigars International Ltd. where he was responsible for the direct sales and marketing of new product placements to national convenience store chains including Southland Corporation, Tosco Marketing and Mobil Oil Corporation. During his tenure, Mr. Charleston successfully launched the in-store humidor program in over 10,000 retail outlets and sold the PrimeTime Flavored Smokes program to more than 25,000 retail outlets throughout the United States.
In August of 1997, Premium Cigars International Ltd. Held its $10MM Initial Public Offering on the NASDAQ Small Cap Exchange. Mr. Charleston was one of the founders of Premium Cigars International Ltd. Prior to joining Premium Cigars International, Pete Charleston was the Vice President of National Sales at CanAm International Investments Corporation, a company that he co-founded in 1995. Premium Cigars International acquired CanAm in 1996. In 1991, Mr. Charleston graduated from Valparaiso University where he earned a Bachelor of Science degree in Business Administration with a concentration in Marketing.
Pete Charleston - GolfLogix Co-Founder and President has been a guest on 2 episodes.
May 15th, 2018 | Season 3 | 21 mins 20 secs

#growgolf, arccos golf, blue ocean strategy, chef's cut real jerky, entrepreneurship, future of golf, golf 20/20, golflogix, innovation, lean startup, modgolf, modgolfpodcast, pga, pga of america, pga reach, startup, top golf media, topgolf, ugull pay, we are golf, womens golf day

Host Colin Weston recaps the best from each of our twelve Season 3 guests, along with a preview of Season 4 which will premiere on May 29.

February 26th, 2018 | Season 3 | 36 mins 34 secs

#growgolf, future of golf, golf, golf digest, golf disruption, golf innovation, golflogix, modgolf, modgolfpodcast, pete charleston, putt breaks, startup

Would golf be more fun if the recreational player could read the greens like a pro, know exactly how approach shots will roll and how putts will break? Over 4 million App downloads says the answer is YES. Host Colin Weston speaks with GolfLogix Co-Founder and President Pete Charleston to learn how their culture of constant experimentation and entrepreneurial passion that has led to the creation of their latest innovative product: Putt Breaks.