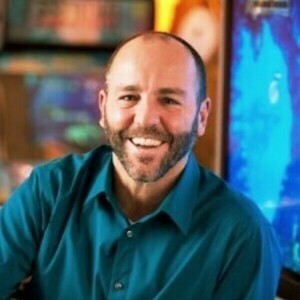 Ron Powers - Head of Swing Suite Division at Full Swing Simulators
Special guest
Ron Powers is Head of Swing Suite Division at Full Swing Simulators, following his tenure as President of Topgolf Swing Suite. Swing Suite is a social golf experience that features state-of-the-art simulators, comfortable lounge seating, HDTVs and food and beverage service in locations such as hotels, sports arenas, shopping centers, cruise liners and more.
Across his 30+ year career in the gaming software industry, Ron has worked with the biggest brands in the business, including Topgolf, EA, Facebook, Google, Apple, Sony and Nintendo. Most recently, he served as president and chief executive officer of SportsWorld, Inc. His experience spans startups to large conglomerates, and he's held senior leadership positions at Arkadium, Inc.; EA; PopCap Games; iPlay and GameHouse, Inc. Throughout his career, Ron has secured publishing rights for hundreds of games and led companies through the many stages of growth and rebirth.
A fan of the Pacific Northwest, Ron attended Oregon State University and currently resides in Seattle. In his free time, he volunteers with a local animal sanctuary and enjoys golf, cycling, snowboarding, and water sports with his family and friends.
Ron Powers - Head of Swing Suite Division at Full Swing Simulators has been a guest on 3 episodes.
December 13th, 2021 | Season 10 | 21 mins 23 secs

agustin piza, arjun chowdri, bryan crawford, chris noble, dr. greta anderson, full swing simulators, golf business, golf canada, golf podcast, golfballs.com, golfhers, jeehae lee, kelly hunt, lisa o'hurley, lohla sport, marc simon, matt fisher, modgolf, modgolf podcast, mr. short game, nextgengolf, pga of america, pga show, rbc canadian open, ron powers, southworth development, swing suite, tom cox, topgolf

That's a wrap for Season 10 of The ModGolf Podcast! Our team is currently working on your next twelve episodes for Season 11, which launches early January 2022. We heard some amazing stories from a diverse group of guests who discussed how inclusion, technology, entertainment, music, celebrity, hospitality and community building intersect to shape the future of golf.

September 29th, 2021 | Season 10 | 36 mins 40 secs

full swing simulators, future of golf, golf business, golf entertainment, golf experience, innovation, modgolf, modgolfpodcast, ron powers, swing suite, topgolf

"In middle of July 2020 after a lot of sleepless nights, I woke up on a Friday evening in a cold sweat panic. What is going on? How do I save the business?" Ron Powers, Head of Swing Suite Division at Full Swing Simulators joins us to share how they survived and thrived during tumultuous times.

May 8th, 2017 | Season 1 | 34 mins 24 secs

golf, golf channel, golf digest, golf innovation, lpga, modgolf, pga, pga tour, ron powers, topgolf, topgolf crush, topgolf media, topgolf swing suites, topgolf tour

Our guest is Ron Powers, the President of Topgolf Swing Suite. Ron discusses how Topgolf, which started over 15 years ago as a fun way for a couple of brothers to practice their golf game, has emerged as the major force in golf innovation that helps drive the increasing participation numbers in the game.