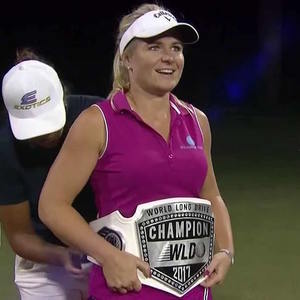 Sandra Carlborg - 5 Time Women's World Long Drive Champion
Special guest
Longdrive is when you hit a golf ball as far as you can. Sandra had the longest ball ever in competition 391,2 yards 2009-2017. Now her record is 401 and the WR 406. She has also played professional golf around the world since 2004, on the Ladies European Tour, Letaccess Tour, South African Tour and the Swedish Tour.
Now she has full focus on her Long Drive. When she's not compete or practice to win more world titles. She loves to inspire kids and woman and challenge the men. She also do exhibitions and corporation days for company's and golf clubs and she is a personal trainer for exercise at the gym.
Sandra loves to travel so this type of life fits her perfectly! When she's not on the golf course she love to experience new things and places. She likes skiing and sailing. She love to walk around in a big city as well as walking in the woods with her dog. When it's time to relax, she prefers laying on the beach or on a sun bed. Doesn't happen too often! Also family and friends are very important to Sandra. It's often at least one from the family traveling with her.
She loves her job! All kind of exercise on the golf course as well as at the gym. One of her favourite things is to talk, so meeting different people all the time is absolutely perfect for her!
She is so lucky and thankful that she can live her dream and travel the world with her golf clubs!
Sandra Carlborg - 5 Time Women's World Long Drive Champion has been a guest on 1 episode.
September 12th, 2017 | Season 2 | 1 hr 7 mins

#growgolf, future of golf, golf, golf channel, golf innovation, justin james, lisa longball, maurice allen, modgolf, modgolf podcast, sandra carlborg, topgolf, volvik, volvik usa, winstar, winstar world resort and casino, world long drive

We open Season Two as host Colin Weston travels to Oklahoma to cover the Volvik World Long Drive Championship. There Colin speaks with the players, fans, creators, owners and sponsors to reveal how Golf Channel plans to transform what was a niche golf novelty event into a mainstream sport entertainment property.