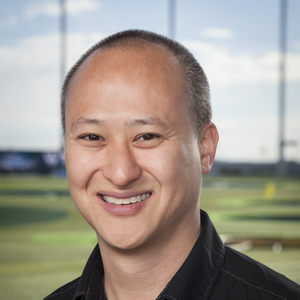 YuChiang Cheng - President, Topgolf Media
Special guest
YuChiang Cheng joined Topgolf Media as president following Topgolf Entertainment Group's successful acquisition of World Golf Tour (WGT), the world's largest golf website and mobile golf game, which he co-founded in 2006. At Topgolf Media, YuChiang and his team tap their gaming, entertainment and tech expertise to create meaningful, shared digital moments for the Topgolf community. Through the use of technology, Topgolf Media further enhances in-venue golf games, apps and virtual experiences. In addition, the company supports the Topgolf experience with strategic partnerships, sponsorships and digital content.
Under YuChiang's leadership, WGT grew from zero to 14 million players, bringing console-quality graphics to web and mobile platforms. WGT was one of the first U.S. games to leverage free-to-play in-app purchases and in-game native advertising. Prior to WGT, YuChiang served on the executive team of WagerWorks (NYSE: IGT) as vice president of corporate development and product marketing. While at WagerWorks, he helped launch online gaming favorites Virgin Games, World Poker Tour and Hard Rock Casino before the company was acquired by IGT in 2005.
YuChiang graduated with a Bachelor of Arts degree from Colorado College. He lives in Silicon Valley and, when not playing golf, you'll find him restoring classic cars, playing hockey and wrestling his dogs.
YuChiang Cheng - President, Topgolf Media has been a guest on 2 episodes.
May 15th, 2018 | Season 3 | 21 mins 20 secs

#growgolf, arccos golf, blue ocean strategy, chef's cut real jerky, entrepreneurship, future of golf, golf 20/20, golflogix, innovation, lean startup, modgolf, modgolfpodcast, pga, pga of america, pga reach, startup, top golf media, topgolf, ugull pay, we are golf, womens golf day

Host Colin Weston recaps the best from each of our twelve Season 3 guests, along with a preview of Season 4 which will premiere on May 29.

March 27th, 2018 | Season 3 | 42 mins 21 secs

entrepreneurship, freakonomics, future of golf, golf, golf disruption, golf innovation, grow golf, lean startup, modgolf, modgolfpodcast, podcast, startup, this american life, topgolf, topgolf crush, topgolf media, topgolf tour, yuchiang cheng

Topgolf Media was created to become the digital content and mobile gaming platform for Topgolf Entertainment Group. In only two years after the acquisition of his previous company WGT Media, Topgolf Media President YuChaing Cheng leads a passionately innovative group that extends the Topgolf message to showcase charitable community building, food, music, entertainment and sport to create a unique lifestyle brand unlike any other.