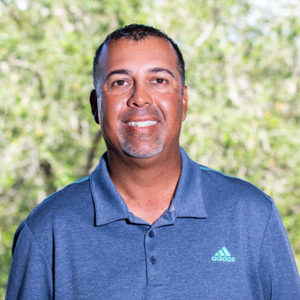 Andy Walker - Director, UGA Academy & Player Development
Special guest
Former PGA Tour player and Virginia Commonwealth University Head Golf Coach Andy Walker passionately gives back to the game he loves. As Director of The United Golfers Association (UGA) Academy and Player Development, Andy is committed to giving young black men and women the opportunity to flourish both as professional players and industry leaders.
Established almost 100 years ago in 1925,  the UGA is still pushing to prepare young Black Golfers to achieve success on the many Professional Tours. The UGA Golf Academy is designed to prepare them mentally, physically and professionally to compete as Future Tour Players and Golf Professionals throughout the world.
The United Golfers Association (UGA) was a group of African American golfers who operated a separate series of professional golf tournaments for Blacks during the era of racial segregation in the United States. It was started in 1925 with the collaboration of several golfers who saw the need for a organized effort to increase golf amongst themselves. Many talented golfers such as Ted Rhodes, Bill Spiller, Pete Brown, Renee Powell, Lee Elder, Charlie Sifford, Willie Brown Jr, Althea Gibson, Jim Thorpe, Jim Dent, Ann Gregory, and Howard Wheeler started their careers as members of UGA.
Andy Walker - Director, UGA Academy & Player Development has been a guest on 2 episodes.
July 20th, 2021 | Season 9 | 18 mins 30 secs

andy walker, bodo sieber, cobra golf, dick zokol, dr. greta golf, eric sedransk. member for a day, gcsaa, golf channel, golf industry guru, greta anderson, keith stewart, lazarus esports, mike yagley, mindtrak golf, pga of america, power tee, shelia finney, tagmarshal, the uga

That's a wrap for Season 9 of The ModGolf Podcast! Our team is currently working on your next twelve episodes for Season 10, which launches mid-August 2021. We heard some amazing stories from a diverse group of guests who discussed how inclusion, technology, entertainment, music, celebrity, hospitality and community building intersect to shape the future of golf.

April 10th, 2021 | Season 9 | 38 mins 50 secs

#growgolf, black golfers, black lives matter, british columbia golf, cameron champ, entrepreneurship, future of golf, golf canada, golf channel, harold varner, innovation, lee elder, modgolf, modgolfpodcast, pga, pga of america, pga works, stephen curry, the masters, tiger woods, uga, united golfers association, we are golf

"It's so much bigger than just the technology involved. When we talk about creating The Wakanda For Golf, we're referring to Black Panther which was such a hit for people of colour because for the first time there's a hero that looks like us. Now talented young black golfers are going to be inspired by seeing people that look and talk like them, who are competing, practicing and grinding on their game." Andy Walker, Director of The UGA Academy & Player Development joins us to share how he's passionately giving back to the game he loves.