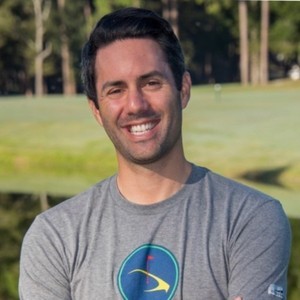 Eric Sedransk - Founder and CEO at Member For A Day
Special guest
Eric is currently the founder and CEO of Member for a Day; the world's leading golf nonprofit fundraising platform.
In May of 2020 Eric launched a charity golf auction in support of New York City Local Restaurants and Hospital Workers effected by COVID-19. What started out as a way to give back, resulted in over $100,000 raised in seven days, equating to over 10,000 meals for frontline workers.
Their clients include the American Cancer Society, Various First Tee chapters, The Ray Bourque Foundation, The Steve Smith Family Foundation, Amanda Balionis / Puppies & Golf, and many more.
They've since raised over $1,000,000 for a variety of amazing non-profits through once in a lifetime rounds of golf in less than a year.
Eric Sedransk - Founder and CEO at Member For A Day has been a guest on 2 episodes.
July 20th, 2021 | Season 9 | 18 mins 30 secs

andy walker, bodo sieber, cobra golf, dick zokol, dr. greta golf, eric sedransk. member for a day, gcsaa, golf channel, golf industry guru, greta anderson, keith stewart, lazarus esports, mike yagley, mindtrak golf, pga of america, power tee, shelia finney, tagmarshal, the uga

That's a wrap for Season 9 of The ModGolf Podcast! Our team is currently working on your next twelve episodes for Season 10, which launches mid-August 2021. We heard some amazing stories from a diverse group of guests who discussed how inclusion, technology, entertainment, music, celebrity, hospitality and community building intersect to shape the future of golf.

May 5th, 2021 | Season 9 | 35 mins 29 secs

#growgolf, british columbia golf, charity, entrepreneurship, eric sedransk, future of golf, gcsaa, golf business, golf canada, golf channel, innovation, member for a day, modgolf, modgolfpodcast, ngcoa, non profit, pga, pga of america

"I received hundreds of messages from all around the world thanking me and wanting to donate additional rounds. It was a movement. I hit on an emotional element within human beings that works." Eric Sedransk, Founder of Member For A Day joins us to share how he applied a Lean Startup mindset to unlock value in the nonprofit and golf charity space.