James Cronk - Co-Founder & President, Golf Industry Guru
Special guest
For the past twenty-five years James Cronk has been passionately committed to helping organizations get their people, and their customers powered on. Whether as a theatre producer, golf professional or small business owner, his success as a manager and leader is evident in the recognitions bestowed upon himself and his teams.
Three times (and in two different industries) his organization has been recognized as one of the 'Top Ten Employers' in British Columbia, Canada; the readers of Golf Digest, the golf industry's foremost authority, recognized his facility as having the '5th Best Customer Service in North America'. Among his personal recognitions; 'Top 40 Business Persons under 40' and 'Top 20 Most Influential People in Golf in Canada'.
His company, CRONK GROUP, uses a unique blend of creativity, experience and proven systems to help organizations achieve their goals and increase their profits by improving their systems, their service and their people! For more information visit www.cronkgroup.com.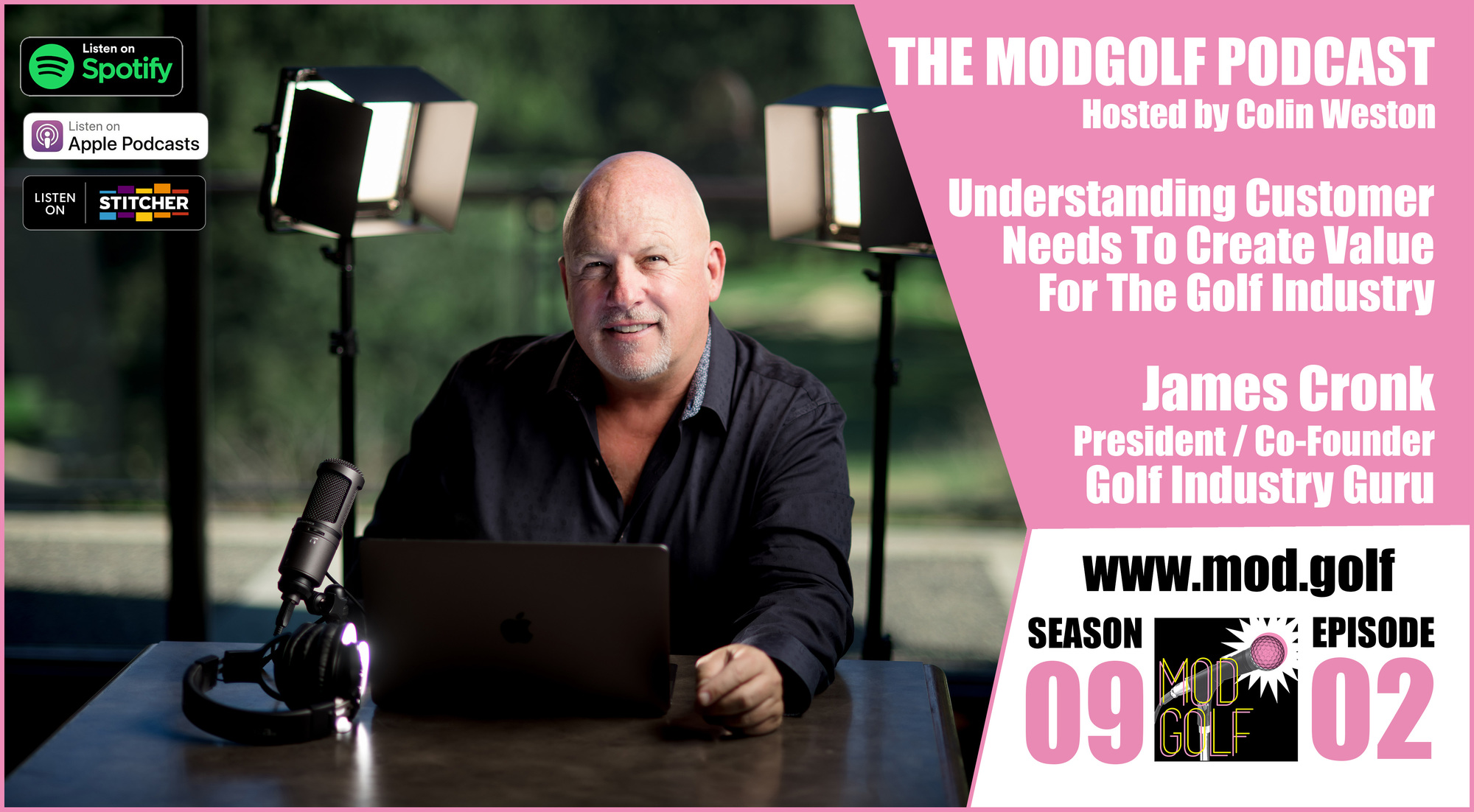 Golf Industry Guru (GIG) provides Online Education For Golf Course Owners & Operators from the world's most successful golf & hospitality industry leaders.
Golf Industry Guru is a membership-based website updated daily for online learning to help golf course owners and operators achieve greater success. (GIG) is perfect for any type of golf facility anywhere in the world, and loaded with information that will benefit Owners, General Managers, Superintendents, Directors of Golf, F&B Managers, Chefs, Sales & Marketing Managers and Financial Controllers.
James Cronk - Co-Founder & President, Golf Industry Guru has been a guest on 2 episodes.
July 20th, 2021 | Season 9 | 18 mins 30 secs

andy walker, bodo sieber, cobra golf, dick zokol, dr. greta golf, eric sedransk. member for a day, gcsaa, golf channel, golf industry guru, greta anderson, keith stewart, lazarus esports, mike yagley, mindtrak golf, pga of america, power tee, shelia finney, tagmarshal, the uga

That's a wrap for Season 9 of The ModGolf Podcast! Our team is currently working on your next twelve episodes for Season 10, which launches mid-August 2021. We heard some amazing stories from a diverse group of guests who discussed how inclusion, technology, entertainment, music, celebrity, hospitality and community building intersect to shape the future of golf.

March 3rd, 2021 | Season 9 | 41 mins 29 secs

british columbia golf, future of golf, gcsaa, golf, golf canada, golf channel, golf industry guru, innovation, james cronk, modgolf, modgolfpodcast, ngcoa, pga of america, usga

"I'm pretty good at dreaming stuff up, but more importantly you need to be able to execute, to make stuff happen." We sit down with Golf Industry Guru Co-Founder James Cronk to learn how his team puts the customer first to create new value in a traditional market space.