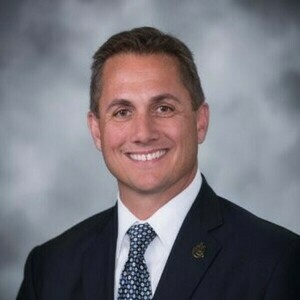 Mark Mattingly - Executive Vice President at Landscapes Golf Management
Special guest
A PGA Professional since 1994, Mark has served as a General Manager, Regional Manager and Regional Operations Executive for private and public facilities alike with a strong emphasis on business-building programming and membership growth. As part of the Landscapes team, Mark is centrally located in Indiana where he also served on the Indiana PGA Board of Directors for three consecutive terms (2005 – 2012) during which time he chaired committees dedicated to education, scholarships, Special Olympics and growth of the game initiatives.
Mark has been in golf operations for his entire career and is super knowledgeable about the industry and management of golf courses and country clubs. He's special in that he blends creativity and data.
One of America's five largest and most trusted operators of golf courses and country clubs, Landscapes Golf Management's 50-plus property portfolio across 20 states benefits from conveniently located regional offices. The family-owned-and-operated company prides itself on a guest and member-centric approach supported by strong client relationships, well-trained and personable staff contributing to an enviable culture, meticulous attention to detail in every aspect of operation and proven back-office systems. LGM provides turnkey and a la carte solutions to owners of golf courses and country clubs. Its experts cover business strategy and planning, golf course maintenance, clubhouse operations, marketing, IT, staffing and training, food and beverage, health and wellness, merchandising, golf instruction and financial management. Sister company Landscapes Unlimited is the recognized leader in development and construction of golf courses ranging from major tournament and PGA Tour event hosts to local layouts of varying shapes, sizes and budgets. The company also excels at building sports fields for professional sports teams, colleges and municipalities.
Mark Mattingly - Executive Vice President at Landscapes Golf Management has been a guest on 2 episodes.
April 30th, 2022 | Season 11 | 22 mins 10 secs

#makegolfyourthing, british columbia golf, entrepreneurship, future of golf, golf business, golf canada, golf genius software, golf industry, innovation, make golf your thing, modgolf, modgolf podcast, modgolfpodcast, pga of america, the pga show, usga

That's a wrap for Season 11 of The ModGolf Podcast! Our team is currently working on your next twelve episodes for Season 12, which launches early June 2022. We heard some amazing stories from a diverse group of guests who discussed how inclusion, technology, entertainment, music, celebrity, hospitality and community building intersect to shape the future of golf.

February 7th, 2022 | Season 11 | 45 mins 2 secs

golf business, golf canada, golf podcast, katz strategy, landscapes golf management, mark mattingly, modgolf, modgolf podcast, ngcoa, pga of america, rich katz, usga

"If you're going to get into the golf business, you need to love seeing people get that spark in their eye as they joyfully experience this great game. And if you love to do that, you'll go the extra mile to provide that quality programming and on-boarding." Guest host Rich Katz sits down with Landscapes Golf Management Executive VP Mark Mattingly for an engaging conversation that spans his three-plus decades in the golf industry.