That's a wrap for Season 11 of The ModGolf Podcast! Our team is currently working on your next twelve episodes for Season 12, which launches early June 2022. We heard some amazing stories from a diverse group of guests who discussed how inclusion, technology, entertainment, music, celebrity, hospitality and community building intersect to shape the future of golf.
______________________________________________
Are you new to golf and want to build both your confidence and golf swing while having fun? We are partnering with my good friend Dr. Greta Anderson and her new teaching platform Project72 Golf to offer 15% OFF your monthly or annual subscription using promo code MODGOLF! CLICK TO SAVE. You'll receive personalized coaching tips, strategies and insights to transform your golf game in just 12 months, along with a five-day golf swing setup checkup and access to the "Five Days To Power Putting" program!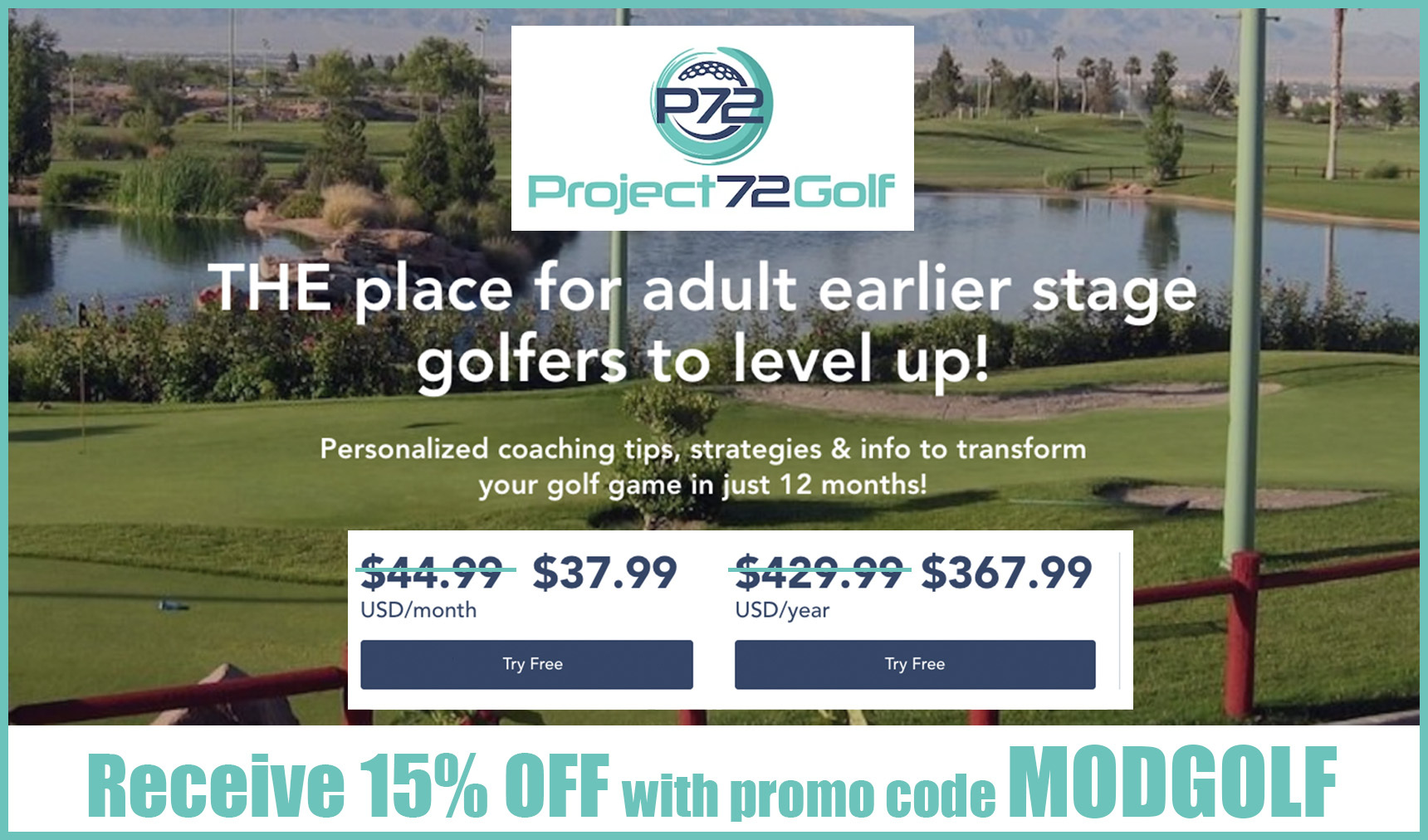 ______________________________________________
If you didn't get the chance to listen to all of our twelve Season 11 episodes, this bonus show gives you a recap of the great conversations I had with some of the golf industry's top influencers, innovators and entrepreneurs. Hopefullly this will inspire you to listen to a couple of the episodes listed below. Let us know which ones you enjoyed the most and why you liked them!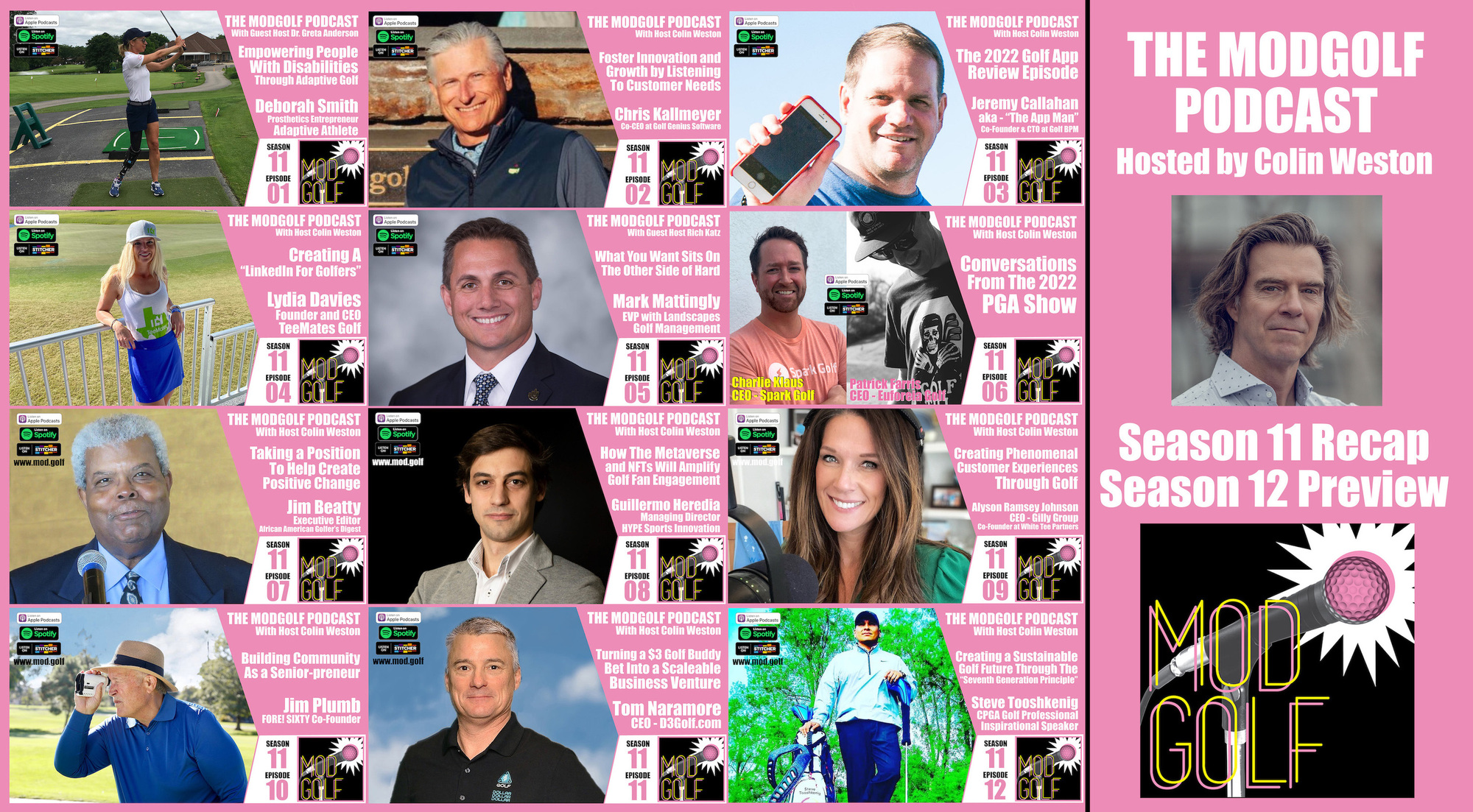 Our Season 11 guests were:
Episode 1
Deborah Smith - Prosthetics Entrepreneur and Adaptive Athlete (with guest host Dr. Greta Anderson)
Click to listen >> EMPOWERING PEOPLE WITH DISABILITIES THROUGH ADAPTIVE GOLF
Episode 2
Chris Kallmayer - Co-CEO at Golf Genius Software
Click to listen >> FOSTER INNOVATION AND GROWTH BY LISTENING TO CUSTOMER NEEDS
Episode 3
Jeremy Callahan - aka "The App Man", Co-Founder and CTO at Golf BPM
Click to listen >> THE 2022 GOLF APP REVIEW EPISODE
Episode 4
Lydia Davies - Founder and CEO at TeeMates Golf
Click to listen >> CREATING THE "LINKEDIN FOR GOLFERS"
Episode 5
Mark Mattingly - EVP at Landscapes Golf Management
Click to listen >> WHAT YOU WANT SITS ON THE OTHER SIDE OF HARD
Episode 6
Charlie Klaus (SPARK Golf) and Patrick Farris (EUFOREIA Golf)
Click to listen >> CONVERSATIONS FROM THE 2022 PGA SHOW
Episode 7
Jim Beatty - Executive Director, African American Golfer's Digest
Click to listen >> TAKING A POSITION TO HELP CREATE POSITIVE CHANGE
Episode 8
Guillermo Heredia - Managing Director with HYPE Sports Innovation
Click to listen >> HOW THE METAVERSE AND NFTS WILL AMPLIFY GOLF FAN ENGAGEMENT
Episode 9
Alyson Ramsey Johnson - CEO at Gilly Group and Co-Founder at White Tee Partners
Click to listen >> CREATING PHENOMENAL CUSTOMER EXPERIENCES THROUGH GOLF
Episode 10
Jim Plumb - Co-Founder and FORE! SIXTY
Click to listen >> BUILDING COMMUNITY AS A "SENIOR-PRENEUR"
Episode 11
Tom Naramore - CEO at D3Golf.com
Click to listen >> TURNING A $3 WEEKLY GOLF BUDDY BET INTO A SCALEABLE BUSINESS VENTURE
Episode 12
Steve Tooshkenig - Golf Teaching Professional and Inspirational Indigenous Speaker
Click to listen >> CREATING A SUSTAINABLE GOLF FUTURE THROUGH THE "SEVENTH GENERATION PRINCIPLE"
______________________________________________
If you love golf, we have exclusive deals on golf gear and services that we use and support! We launched The ModGolf Pro Shop to offer you - our ModGolfers - 10-20% OFF exclusive discounts using promo code MODGOLF. We have curated a diverse selection of awesome brands like KINONA, deWiz Golf, ODIN Golf, Back2Basics Golf, Deuce and Project72Golf to help you play better and look great while doing it. CLICK TO SHOP AND SAVE.