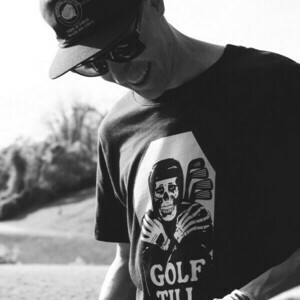 Patrick Farris - Euforeia Golf Co. Founder / CEO
Special guest
Euforeia was formed as a paradise for freethinkers, outsiders, and good-time subscribers. This convergence of minds created a culture rooted in self-expression, adventure, and the endless journey that is golf. It is this culture and passion that is the soul of who we are, fueling the ingenuity and creativity that goes into every detail of what we make. Our mission is to usher in a new era of golf by obliterating boundaries in order to pave a way for youth culture to rise and expand the game.
Origin Story
June 17th, 2016 Oakmont, PA
It was Father's Day weekend and I decided to surprise my dad (big golfer) with tickets to the U.S. Open at Oakmont. This was my first time attending any golfing event, let alone a PGA tour event, and I was only looking forward to it because I would get the chance to spend time with my dad who was very excited. He had played Oakmont a few times back in the 90s before he was really into golf so it would be a treat from him to be there once again as someone who's actually rolled on those ice like greens.
Surprisingly, it was me who was blown away. You see, I did not play golf at the time. Sure, I would play a round or two with my dad on Father's Day or his birthday but that was the extent of my golfing aspirations. In fact, before that point in my life, I was about as far from a golfer as a person could be. I grew up racing motocross, snowboarding, and playing hockey. Everything I enjoyed was adrenaline-based and golf just seemed lame.
Something clicked at Oakmont though. I don't know if it was seeing shot after shot land on the 288 yard Par 3 green, the massive crowds, the beers, the beauty, or the humor of Phil Mickleson surrounded by thousands, but I suddenly realized my perception of golf might have been a bit off. Stranger yet, I felt the desire to go play 18. Later that week I tee'd it up, and I've been hooked ever since.
One issue that I noticed right away was that none of the clothes fit my style and none of the brands fit my personality. I just didn't fit into golf; yet, I had this unexplained desire to constantly want to swing a club. I decided then, if I was going to play this game for the rest of my life, I was going to have to do something about it. In that moment, Euforeia was born.
-Patrick Farris, Founder
Patrick Farris - Euforeia Golf Co. Founder / CEO has been a guest on 2 episodes.
April 30th, 2022 | Season 11 | 22 mins 10 secs

#makegolfyourthing, british columbia golf, entrepreneurship, future of golf, golf business, golf canada, golf genius software, golf industry, innovation, make golf your thing, modgolf, modgolf podcast, modgolfpodcast, pga of america, the pga show, usga

That's a wrap for Season 11 of The ModGolf Podcast! Our team is currently working on your next twelve episodes for Season 12, which launches early June 2022. We heard some amazing stories from a diverse group of guests who discussed how inclusion, technology, entertainment, music, celebrity, hospitality and community building intersect to shape the future of golf.

February 16th, 2022 | Season 11 | 41 mins 30 secs

#growgolf, entrepreneurship, euforeia golf, future of golf, golf apparel, golf business, golf fashion, golf industry, innovation, modgolf, modgolf podcast, modgolfpodcast, pga, spark golf, the pga show, usga

Host Colin Weston attends The 2022 PGA Show, where he meets up with Euforeia Golf Co. Founder Patrick Farris and Spark Golf CEO Charlie Klaus for in-person conversations to learn how they are finding their niche in the golf industry.