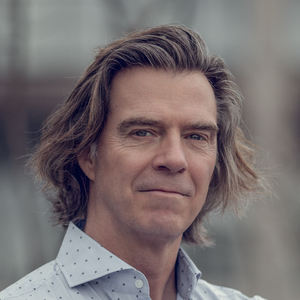 Colin Weston, Partner at REVIVER Sport Entertainment
Co-Host of The ModGolf Podcast
Golf Innovator, entrepreneurship community builder and innovation junkie: Colin's passion is to re-imagine sport to make the experience more diverse, engaging, relevant and shareable for fans, athletes and brand sponsors. As a founding partner, asset developer and experience designer at REVIVER Sport Entertainment, Colin loves being part of the community-building process. Building a vibrant community around the Future of Golf is his inspiration for creating and hosting The ModGolf Podcast.
Over the years Colin has spoken at and moderated several golf industry and business leadership events. Contact him by email if you would like to explore the possibility of Colin sharing his stories and insights at your next virtual conference or educational series. [email protected]

Colin was invited to speak at The 2018 PGA Fashion & Demo Experience in Las Vegas Education about "How to Build a Culture of Innovation and Entrpreneurship Within Your Golf Business"



Host Colin Weston moderates The 2018 PGA of BC Spring Education Seminar
Colin had the pleasure to speak at and moderate The PGA of British Columbia's Spring Education Seminar, where he shared the entrepreneurial insights from our previous guests to the 160 attendees.
http://www.pgabc.org/tournaments-and-events/pga-bc-spring-education-seminar-0#Weston



Host Colin Weston meets Top Golf Instructor Michael Breed at The 2018 PGA of BC Spring Education Seminar

Colin Moderates and Speaks at The 2018 PGA of BC Spring Education Seminar

The ModGolf Podcast featured at the 2018 PGA Show
Our host Colin Weston appeared at The 2018 PGA Show in Orlando on January 24 for The #GolfDisruptorsPanel, where he moderated a lively discussion about golf innovation and the entrepreneurial journey with four of our previous episode guests.
http://www.pgashow.com/en/Sessions/50315/The-Golf-Disruptors-Panel

Colin with Women's Golf Day Founder Elisa Gaudet and Women of Color Golf Founder Clemmie Perry, along with panelists Dave Shultz (NextLinks) and Guillaume Beland (Major Series of Putting)
Colin Weston, Partner at REVIVER Sport Entertainment has hosted 173 Episodes.