That's a wrap for Season 12 of The ModGolf Podcast! Our team is currently working on your next twelve episodes for Season 13, which launches early December 2022. We heard some amazing stories from a diverse group of guests who discussed how inclusion, technology, entertainment, music, celebrity, hospitality and community building intersect to shape the future of golf.
______________________________________________
If you love golf, we have exclusive deals on golf gear and services that we use and support! We launched The ModGolf Pro Shop to offer you - our ModGolfers - 10-20% OFF exclusive discounts using promo code MODGOLF. We have curated a diverse selection of awesome brands like KINONA, deWiz Golf, ODIN Golf, Back2Basics Golf, Deuce and Project72Golf to help you play better and look great while doing it.
CLICK TO SHOP AND SAVE.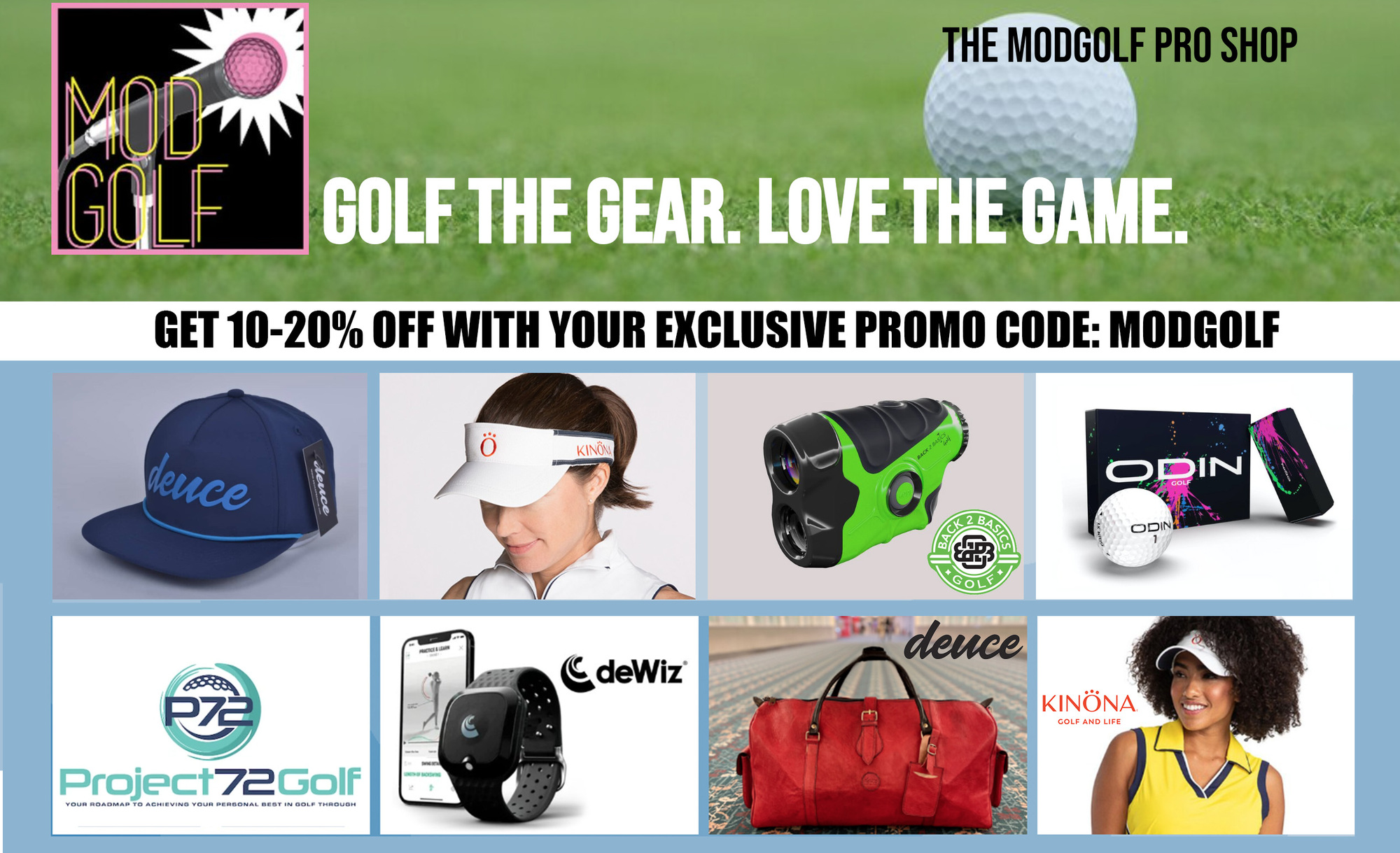 ______________________________________________
If you didn't get the chance to listen to all of our twelve Season 12 episodes, this bonus show gives you a recap of the great conversations I had with some of the golf industry's top influencers, innovators and entrepreneurs. Hopefullly this will inspire you to listen to a couple of the episodes listed below. Let us know which ones you enjoyed the most and why you liked them!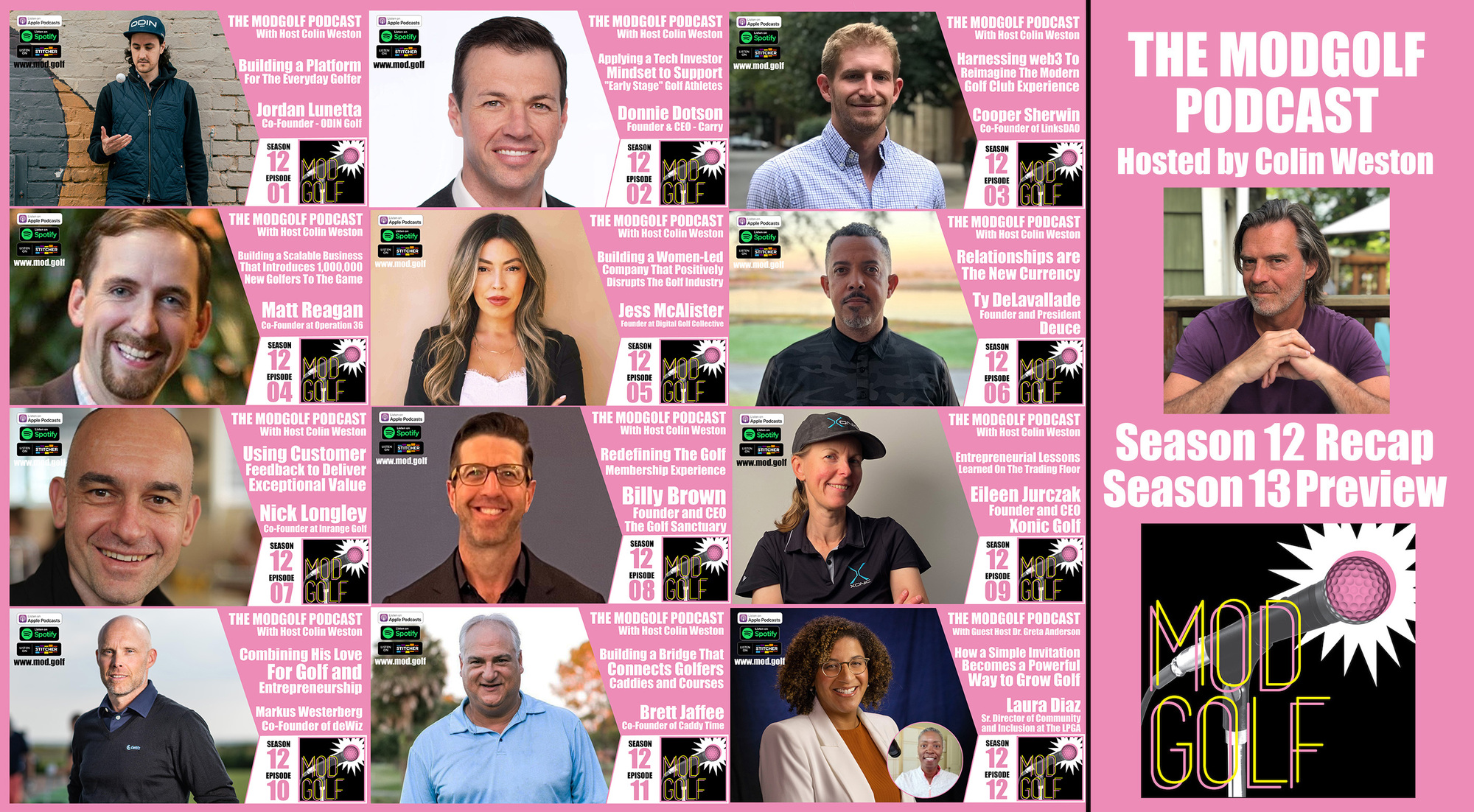 Our Season 12 guests were:
Episode 1
Jordan Lunetta - Co-Founder of ODIN Golf
"We have big ambitions to take ODIN to golfers across the globe. We have a vision of building a platform for the everyday golfer." Jordan Lunetta, Co-Founder of ODIN Golf opens Season 12 to share how they are creating a golf-loving tribe by living their company tagline: "Go Balls Out. Always!"
Click to listen >> BUILDING AN ENGAGING PLATFORM FOR THE EVERYDAY GOLFER
Episode 2
Donnie Dotson - Founder and CEO at Carry Golf Investments
"These potential investors didn't know the players 48 hours earlier and were high fiving them saying "we'll be following along and cheering for you guys!" My goal now is to be able to bottle up that experience and scale it, so we can help a lot more golfers but also bring a lot more fans closer to the game." Donnie Dotson joins us to share how he's applying tech startup lessons learned to elite athletes.
Click to listen >> APPLYING A TECH INVESTOR MINDSET TO SUPPORT "EARLY STAGE" GOLF ATHLETES
Episode 3
Cooper Sherwin - Co-Founder and Head of Community at LinksDAO
"We knew right off the bat that we wanted to bring value to NFT holders, not where it was lottery based where maybe five folks would get a trip to The Masters. We wanted to make sure that we had benefits across the board in an equitable way. Cooper Sherwin shares how LinksDAO uses web3 and the value of NFTs to reimagine the golf club membership experience.
Click to listen >> HARNESSING WEB3 TO REIMAGINE THE MODERN GOLF CLUB EXPERIENCE
Episode 4
Matt Reagan - Founder and CEO at Operation 36 Golf Co-Founder
"We created this cool environment to test group programming with kids and try to figure out what works to make it fun, but also make sure they are getting better and turning into golfers." Matt Reagan shares how they looked at youth sports like martial arts to create a multi-levelled teaching program that is both effective and fun.
Click to listen >> BUILDING A SCALABLE BUSINESS THAT INTRODUCES 1,000,000 NEW GOLFERS TO THE GAME
Episode 5
Jess McAlister - Co-Founder of Digital Golf Collective
"With where technology and society is going, it's an adapt or die situation as we are currently seeing in the golf industry today. As severe crazy golf fans and experts in our professional space, we felt we can positively disrupt while loving and respecting the industry and sport we love so much." - Jess McAlister joins us to share how they passionately created the golf influencer space.
Click to listen >> BUILDING A WOMEN-LED COMPANY THAT POSITIVELY DISRUPTS THE GOLF INDUSTRY
Episode 6
Ty DeLavallade - Founder and President of Deuce
"I realized that when building a company, you're really building a tribe. Creating a support group of people around you who are proud to wear the hat because it's cool brand. They wear it because of the quality and how it makes them feel. Whatever their motivation, I'm okay with that." Ty DeLavallade joins us to share the wins and the setbacks that define his entrepreneurial journey.
Click to listen >> RELATIONSHIPS ARE THE NEW CURRENCY
Episode 7
Nick Longley - Co-Founder of Inrange Golf
"Once we understood that our business is helping other businesses succeed, things really took off" - Nick Longley joins us to share their design process that led to creating engaging digital games to heighten the traditional driving range experience for both customers and owners.
Click to listen >> USING CUSTOMER FEEDBACK TO DELIVER EXCEPTIONAL VALUE
Episode 8
Billy Brown - Founder and CEO of The Golf Sanctuary
"November of 2019, I was in a pain med coma from a shoulder surgery wiping drool off my face from the codeine and thought... Golf Sanctuary. If I could go marry real estate and golf, how cool would that be?" Billy Brown joins us to share how he harnessed the Law of Supply and Demand to create a members-only off-course experience that appeals to his love for food, drinks and golf.
Click to listen >> REDEFINING THE GOLF CLUB MEMBERSHIP EXPERIENCE
Episode 9
Eileen Jurczak - Founder and CEO of Xonic Golf
"All of my personal and professional experiences in finance, engineering and golf have come together. It's quite fantastic that they culminate into what I'm doing in the Sport Tech startup space today." Eileen Jurczak joins us to share what she learned about entrepreneurship on the stock exchange trading floor and so much more on this episode of The ModGolf Podcast.
Click to listen >> ENTREPRENEURIAL LESSONS LEARNED ON THE TRADING FLOOR
Episode 10
Markus Westerberg - Co-Founder of deWiz
"Golf provides a North Star to define what success means to you and to appreciate the journey. You have to truly love the game, whether it's the game of entrepreneurship or the game of golf. And when you do that, I believe you will end up in good places." Markus Westerberg joins host Colin Weston to share the value of doing uncomfortable things, the power in collaborating with curious, positive people and so much more on this engaging episode of The ModGolf Podcast.
Click to listen >> COMBINING HIS LOVE OF GOLF AND ENTREPRENEURSHIP
Episode 11
Brett Jaffee - Caddy Time Co-Founder
"Sometimes golfers need a competitive caddy, but also for senior play, junior play, woman's play. Caddies are a terrific bridge to the golf facility." Brett Jaffee joins us to share how a lifetime in entrepreneurship led to the successful creation of their startup.
Click to listen >> BUILDING A BRIDGE THAT CONNECTS GOLFERS, CADDIES AND CLUBS
Episode 12
Laura Diaz - The LPGA's Sr. Director of Community & Inclusion (with guest host Dr. Greta Anderson)
"If you can see it, you can be it". If I can see somebody that looks like me, if there is that representation then I know I can get into this sport, or I can see a career in it." Our guest host Dr. Greta Anderson sits down with Laura Diaz who shares insights gathered starting from her first swing growing up in Puerto Rico.
Click to listen >> HOW A SIMPLE INVITATION BECOMES A POWERFUL WAY TO GROW GOLF
______________________________________________
After testing the deWiz biofeedback swing analysis product we were so impressed with the results that we invited them to offer you an exclusive 10% OFF your purchase using promo code MODGOLF! CLICK TO SAVE on deWiz to see (and feel) lasting results in your swing tempo, length and path improvement.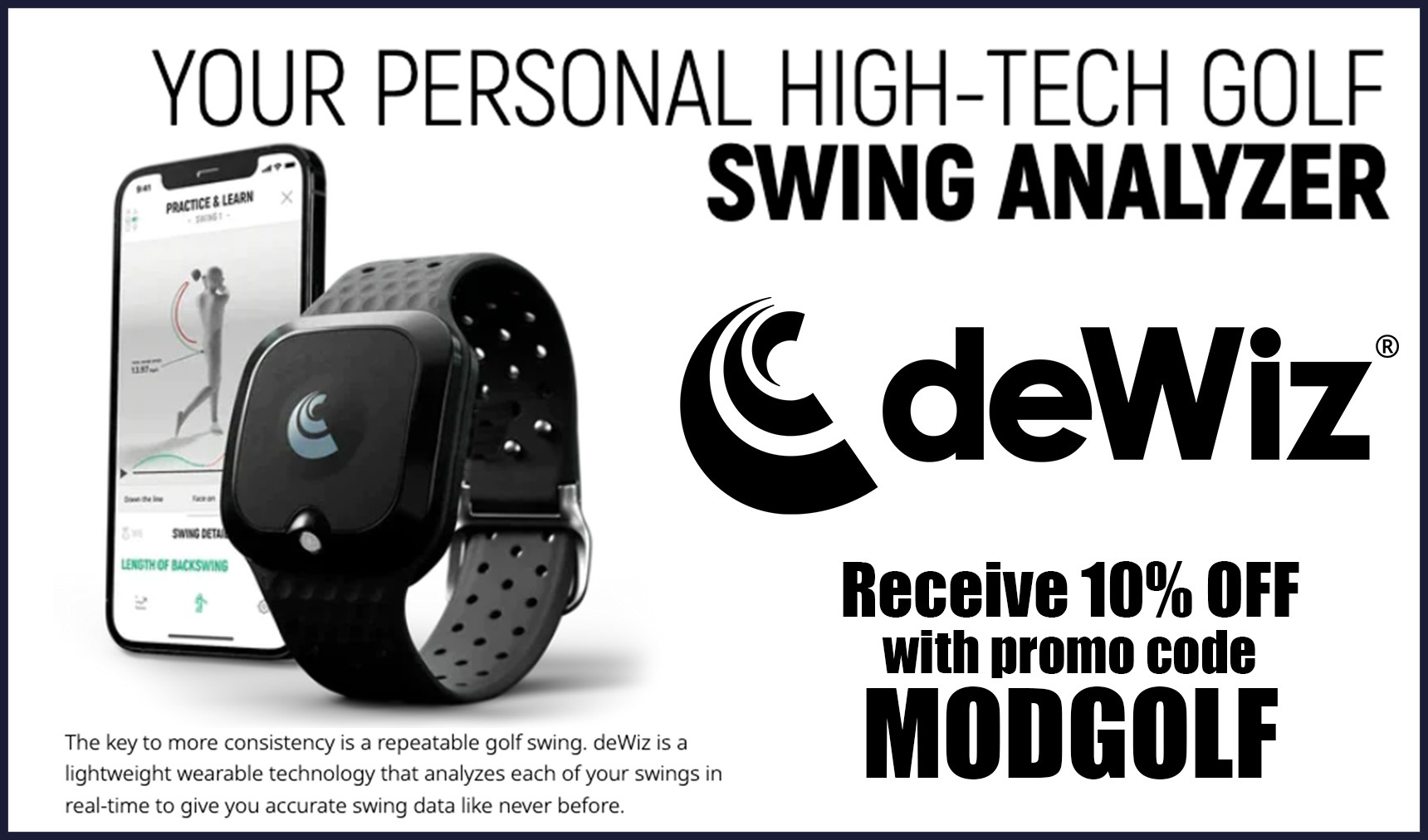 ______________________________________________

Are you new to golf and want to build both your confidence and golf swing while having fun? We are partnering with my good friend Dr. Greta Anderson and her new teaching platform Project72 Golf to offer 15% OFF your monthly or annual subscription using promo code MODGOLF! CLICK TO SAVE. You'll receive personalized coaching tips, strategies and insights to transform your golf game in just 12 months, along with a five-day golf swing setup checkup and access to the "Five Days To Power Putting" program!